Courtesy of Jarrod Shoemaker, 2008 Olympian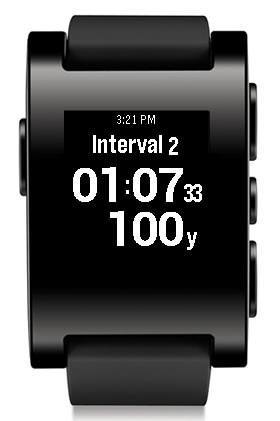 One of the newest innovations in swim training are swim watches. A few years ago you could only use a Garmin to monitor your open water swimming, but now there are several swim watches that will record data while you swim in a pool.
SwimOutlet.com has launched a new online site called Swim.com that is geared entirely towards using swim data to help athletes improve. The other training sites on the market are built towards multisport and are not efficient at analyzing data from swim watches. It is easy to tally distances, but nothing beyond that.
Swim.com has a few other great assets including local pool and club databases and social media connections. The site has been built to not only help swimmers improve but also to allow swimmers to compare against other swimmers at their pools and in their circle of friends. These additional attributes are great to help improve motivation and even create new training groups.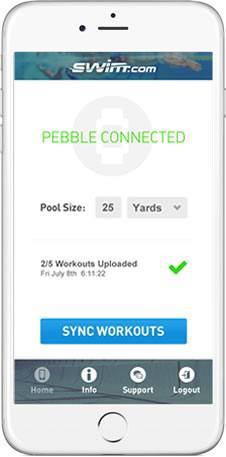 SwimOutlet.com sent me a Pebble watch to try out with the new Swim.com app. The Pebble watch was intuitive and easy to set up and use. I connected it to my computer to charge, downloaded the Pebble app and installed the new software within 15 minutes. I then was able to download the Swim.com app onto my Pebble. Downloading the Swim.com app on my phone and computer and creating an account were also simple.
The first time I used the Pebble in the water I was unsure what it would feel like, but it is slim and very light making it easy to swim with. It does not get in the way or feel like you are wearing much on your wrist. The buttons are also easy to figure out and the display is easy to read even while swimming.
Once I finished it uploaded without a problem and I was able to review the data of my swim.
Overall I was very impressed by not only the watch, but by the ease of use of the Swim.com app.
The Pebble watch and Swim.com app have the following functionality:
Watch display is easy to read

Total time displayed on main screen along with distance
Length time calculated and visible once workout is downloaded
Total workout time divided by lengths gives overall average pace

If you use the interval button also gives you paces of individual segments
Stroke count of each length is given
Pace of your strokes, will allow you to use a tempo trainer or other device to work to improve stroke rate
A measure of the efficiency of your stroke, includes speed and stroke count

This number is great to compare over various distances and speeds to see how your stroke responds
Keeping track of laps and distance is made much easier with the on screen display
Overall the watch and Swim.com app provide amazing tools to help guide an athlete. The Swim.com website will help athletes connect and provide motivation to continue to improve.
For more swim watch reviews by Olympian Mark Gangloff and NCAA finalist Julie Stupp, check out:
http://www.swimoutlet.com/blog/the-gangloff-review-mark-gangloff-julie-stupp-break-down-the-latest-swim-watches
Swimming Gear news is courtesy of Jarrod Shoemaker. SwimOutlet.com is a SwimSwam partner.