Snappy Towels, Canada's official lifeguard towel, has launched in the US with a unique style of microfiber swim towel, the Snappy Towel, adding a whole new element of fun, comfort and convenience to the pool and beach.
When Dan Wood's son was 3 years old, he asked him to tie a towel around his neck because he wanted to be Batman. It didn't sound like a safe thing to do, but Dan remembered doing the same as a kid. Who hasn't worn a towel as a cape at some point? It took many prototypes to get it right, but the outcome wasn't just a cape, but a whole new kind of swim towel.
Canada's Lifesaving Society–the organization that governs all lifeguard training in Canada–chose a customized version of the Snappy Towel as as their official fundraising towel in mid-2015. From there the company grew as swim clubs, coaches and school teams across North America wanted their own "super" custom swim towels.
"Lifesaving Society Ontario has been looking for a product to fundraise for its Swim to Survive program, a water safety survival training program for all children. We chose Snappy Towels™ because they offer something more than a regular beach towel," says Kelly Manoukas, Fund Developer for the Lifesaving Society. "Partnering with Snappy Towels Inc. provides us with a great quality towel that is not only wearable, colorful, but fun, too. It can be used by all ages. Most importantly, for every customized Lifesaving Society Snappy Towel sold, one child receives theSwim to Survive+ (Plus) program, and furthers our mission to prevent drowning and water-related injury."
What started as an idea for a toy evolved to become something useful and fun for swimmers of all ages. Snappy Towels have 6 pairs snaps that allow the towels to be worn in several ways or to be attached together into a blanket or spirit banner. The snaps are made of BPA-free plastic, so they won't rust, cut or damage washing machines.
Snappy Towels can be worn over the shoulders as a poncho or cover-up, meaning you can warm up in your towel and still have both hands free to carry your gear and swim bag and your towel won't end up in a puddle on the change room floor.
The towels can be snapped up into a hooded towel, and of course, Snappy Towels can be worn like a superhero cape.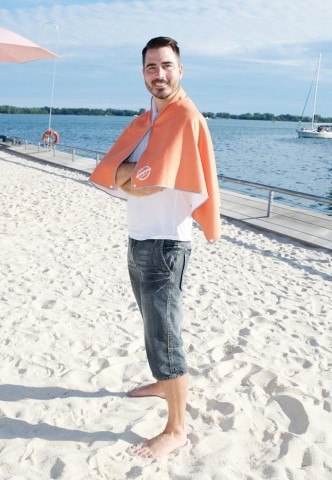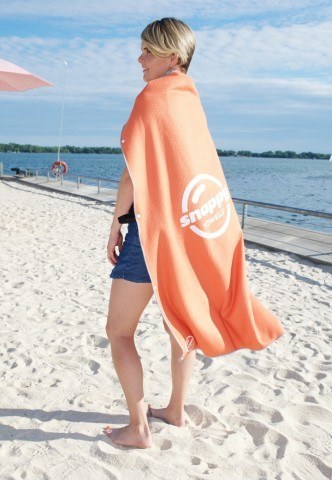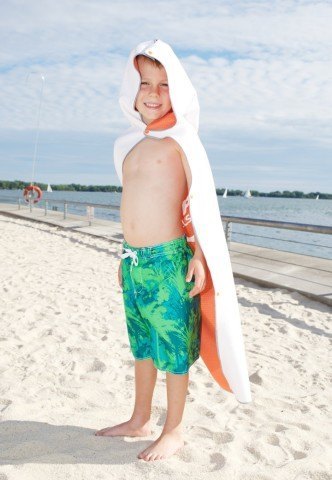 "As a swimmer in high school, I often had more wet towels in my locker than textbooks," says Dan Wood, former swimmer and lifeguard, and now President of Snappy Towels Inc. When my own kids started swimming it occurred to me that there had to be a better way than lugging around bags of wet cotton towels. The laundry was crazy, too. We tried a number of compact swim towels and chamois, but my kids hated the way that those towels felt, and preferred something big enough to wrap around their bodies when the got out of the pool."
Snappy Towels are made with a unique super-absorbent, textured microfiber which feels as comfortable to use as a cotton towel, while packing up to ¼ the size. This not only reduces the weight and amount of room that swim towels take up a swim bag, but cuts down significantly on laundry as well, since dozens of Snappy Towels can be washed in a single load. Since the towels dry faster than cotton, they resist mildew for much longer as well.
Snappy Towels pack up to ¼ the size of a cotton towel and are 30% lighter.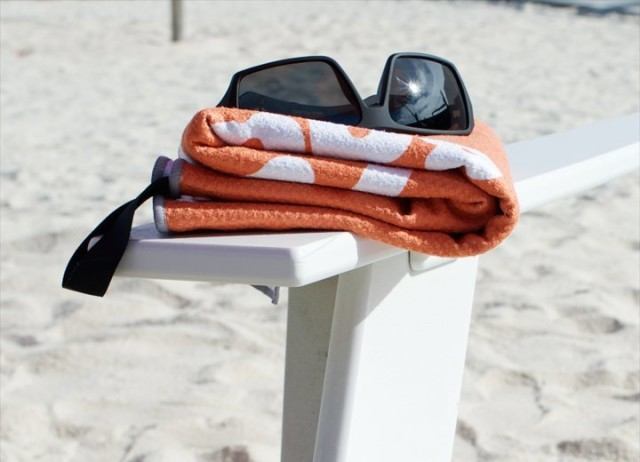 Checkout Snappy Towel's textured microfiber.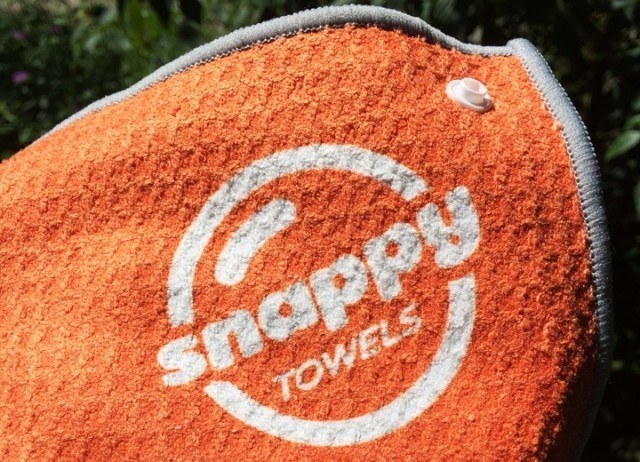 Snappy Towels are patent-pending in the US and internationally. The new 2016 colors (Scuba Blue and Lifeguard Red) are available for pre-sale December 1st at SnappyTowels.com and select retailers and online swim shops.
Swimming Gear news is courtesy of Snappy Towels, a SwimSwam ad partner.