SwimSwam welcomes reader submissions about all topics aquatic, and if it's well-written and well-thought, we might just post it under our "Shouts from the Stands" series. We don't necessarily endorse the content of the Shouts from the Stands posts, and the opinions remain those of their authors. If you have thoughts to share, please send [email protected]
This "Shouts from the Stands" submission comes from Elizabeth Blanco:
Doing anything where your lungs can taste the freshness of air is effortless. Try doing what I do, but this time don't breathe. I was 12-years-old when I joined the competitive swim club, Chattahoochee Gold. Never in my life have I ever faced something as challenging and exhilarating as competitive swimming. If I had known the extraordinary feeling of victory and hardship, I would have joined ages ago.
My first day of swim team was a flop. I came dressed in a romper and flip-flops. The first thing that entered my mind was just how embarrassing I looked compared to everyone else who were wearing athletic clothes and tennis shoes. I didn't know about the thing called dryland. Dryland is where swimmers do activities such as running, push-ups, sit-ups, burpees and all the other CrossFit like exercises that brought tears to even the strongest of us. I was so embarrassed and unprepared. After dryland, we got into the pool. I was so elated but then reality hit me like a train. Everything I thought was going to be a breeze, was incredibly hard. Everyone else was doing everything so easily. It was like it was second nature to them. I thought to myself, "You don't even begin to compare with such amazing swimmers." Somehow though I kept swimming. With so much pain and misery, I felt any sane person would have probably quit. But something about the way my body felt in the water – in its cooling touch and the way I pierced through the clear liquid captivated me. Words could not explain how the water and pool made me feel. The pool to me was like another home. Somewhere I could be myself and relax with others. Also, not to mention the fire lit under me to become the best. So, I worked myself to the bone to improve my skill. Day in and day out, five to six days a week, I trained. Then the first flame I needed to become the best was given to me. I became the swimmer of the month. I got rewarded for my efforts of training hard. This gave me a lot more confidence in my skill level of swimming. After only two months of training, we had our first swim meet. I swam events like the 50 free, 200 free, 200 back, and the 50 back. To my surprise, I was very close to the state cuts. I felt electrified. This was my second flame that was lit to make me go even further with my swimming career.
Months had passed and with each swim meet, there were times that just squeaked a hair too short for the state cuts. I didn't make it. Disappointment and despair filled my cup. My coach, Coach Andy, came over and spoke words I'll never forget, "Blanco you will never learn to soar through water if you stop now and give up. You may believe that you are not good enough to make the cut but you have a long, successful swimming life ahead of you." Coach Andy has lit my third flame I needed to make it to the top. Coach Andy was the type of coach you could always talk to and be inspired by. From then on, I trained with all my heart and soul. Other swim meets have come and gone and even though the short course state was already over I had made the short course state cuts I aspired to. This made me set my eyes on long course state and becoming top ten in my events. My first long course meet had come and I made two state cuts, the 50 free and the 200 back. This empowering feeling, I had grasped with my fingertips, I clenched to with all my might. The next meet had appeared out of nowhere and another three weeks had flown out the window. I snatched up another three state cuts at that swim meet. These were the 50 back, 100 back, and 200 fly. Smiling from ear to ear I heard my coach yelling with joy, "Yes Blanco!" On the stands, I could hear my family cheering me on and saying, "You did amazing love. We are so proud of you." I had one more meet to try and scoop up another state cut. It had finally come the last meet before I went to state. I raced hard and gave it all I got. To my surprise, I had picked up another state cut. With all this joy, I cried with happiness. All those dedicated hours I put into swimming had paid off. I had become swimmer of the month, moved up to the hardest lane with the fastest times, become the fastest kicker on my team, and surpassed all my greatest expectations I had to become a great swimmer. Those tears and sweat had finally paid off. I was going to state.
July 19th through 22nd were the days of the state meet. I entered with my face held high as I dove feet first into the Georgia Tech aquatic center. My events were as follows: 100 free, 50 free, 200 back, 100 back, 50 back, 200 fly, and four relays. My 50 free and 200 back, were my events I felt mediocre in. For my 200 back, I was 14th in the state for my age group and I felt defeated since I couldn't make it to the top ten. For my 50 free, I came in 12th in the state for my age group. This lets me down the most since I am known to have a fast, high tempo freestyle. "I should have gone faster," I thought to myself. In the end, my spirit would have risen from the depths of my three events I did spectacular in. If I would have known how amazing I would have done in my 50 back, 100 back, and my relay, I bet I would not have been a mess of nervousness and butterflies.
I had finally broken through my wall of "I can't do it" or "You're not fast". In my 50 back, I got 4th in the state. This was my finest accomplishment so far in my 13 years of living because of how high I placed. This means only three girls, that are twelve years old, are faster in mean in the 50 back. In my 100 back, I got 7th place. This was a major accomplishment for me because going into this race I had a 1:18 as my time. Then once I was done I had a 1:14. That was four second time drop from only practicing another two weeks! Throbbing with discomfort, my legs ached, but it was all worth it for the race. Lastly, for my relay, we had placed 3rd in state. Never in my life have I felt so much joy with three other people. We all came together as a whole to grab and clinch to that 3rd place in the state.
In the end, the long course state meet had become an unforgettable memory of the past. Swimming had become an immense part of my life. In fact, it became my life and the reason I wake up every day with a smile and renewed dedication.
About Elizabeth Blanco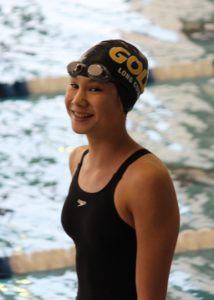 Elizabeth Blanco is a 13-year-old, 8th grader from Roswell, GA. She started swimming in her neighborhood swim league, the Chimney Lakers, in 2016. Today she swims for the competitive team, Chattahoochee Gold in the Sectional Advanced group and she hopes to swim competitively in college. When she is not in the pool or studying, she likes spending time with friends, playing violin and eating ice cream.