SwimSwam welcomes reader submissions about all topics aquatic, and if it's well-written and well-thought, we might just post it under our "Shouts from the Stands" series. We don't necessarily endorse the content of the Shouts from the Stands posts, and the opinions remain those of their authors. If you have thoughts to share, please send [email protected]
This "Shouts from the Stands" submission comes from Kalina Emaus. Emaus is a member of the women's swimming & diving team at Northern State University. Late last week, Northern State wrestler Curtis LeMair was found dead in his dorm room as a result of what his mom says was an undetected heart defect..
To the teammate, brother, friend, classmate gone way too soon.
One day we woke up to news you were gone. We all found out that just moments earlier your heart took its last beats and it was now time to say goodbye. Memories fled to the last times we heard your contagious laugh or saw your infectious smile. All of our days have been changed but we grew and continue to grow stronger in many ways. I cannot easily put into how strange it feels knowing that your missing from this world.  There is a name missing on a roster, a leader position that had your name written all over it. There will be one less person to walk the stage of graduation and to ultimately dream of all the dreams of all the amazing things you could do with your life. All of the should have and could have been haunt our minds trying to comprehend that your gone.
The sun has continued to come up each day. I've learned to depend on that. Little reminders of you have kept me holding on, and ultimately have given me a beautiful life in the midst of unfortunate circumstances. Before losing you I'd never cherished swimming, running, school, or held onto the gift of life so tightly until the day I heard you had passed and watched balloons fly to the sky in your memory.
I bring a photo of you with me to college so it feels like your getting a chance to live a little more, see even just a little more of this world. I have your name in sharpie on my tennis shoes to remind myself you are still with me every step of the way.  It began as a way to remind myself to do what I love for you. However a lot of long runs and distance swim sets later that little catch phrase of mine ended up teaching me something so much greater about living a life full of light and meaning. It may be cliche but life has revealed itself to me of being such a raw and priceless gift. I've learned from you we need to have a "why" or a reason to be motivated every day and to move forward with resiliency when things do not go the way we would have liked, things seem to be not fair and when life can be cruel. It's easy to fall for anything including pain, suffering, self pity, if you do not stand for something. Deciding your why and what you want to measure your life means making a stand for something and then living your life in alignment with it. Ultimately our why brings purpose to even to the small details of our days.
You are my why and always will be.  Every swim set, or any moment when if I feel like I'm at the end of my rope I remember what a priceless gift I have to be alive. Remembering your short life has taught me to always care a little more, love a little deeper. You have been a continued reminder to always fight to give more than you thought you had because there is always someone who would give anything to have the gifts I take for granted. There will always someone whose life ended far too soon… too soon in our eyes.  I refuse to let yours and others dreams go in vain. I hope to live out your dreams with a smile on my face, just like you would be today. That purpose and the why you have given me has brought me so much joy, even if we're apart. Rest In Peace to all those who passed away still with so many dreams. Not a day will go by that I won't think of you as legacy will continue to live on in our hearts and memories.
About Kalina Emaus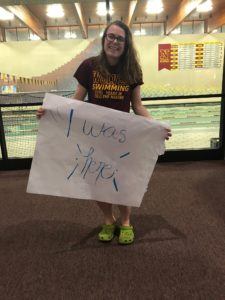 A native of Hudsonville, Michigan, Kalina is currently a student-athlete at Northern State University. Naturally curious geography geek who outside of the pool loves traveling, collecting license plates, running, and volunteering.  She has dreams to become a teacher and aspires to make this world a happy place.