I didn't always loathe waking up early.  In fact, I think it was the early-morning swimming that caused the deep feelings of regret towards booking such an early flight.  There's nothing like getting up at five and jumping into an icy pool while it's still dark and snowing outside.  I always wondered if growing up in California instead of Canada would have made a difference.  Luckily, before making my way to Omaha, I would be spending a few days in the San Francisco Bay Area to catch up with some old friends…
Better a late night than an early morning, so I stayed up.  I was out the door at five to make my seven thirty flight and still felt fresh.  If people ask Braden Keith when he sleeps, then they ask me, "why are you still up?"
Vancouver has its own US Customs checkpoint.  So you can be in the US while still in Canada, which is hard to wrap your head around on zero hours of sleep.  It may be the only place in the US where you can legally buy liquor at age 19.
Last summer, I had the pleasure of working at Finis.  I absolutely fell in love with the Bay area.  I decided to drop by to see the new office and some of the projects the team is working on.
If you haven't had a chance to use any Finis products, you've probably at the very least seen somebody paddling up and down the pool with their iconic swimmer's snorkel.  Finis was founded in 1993 by John Mix and Pablo Morales.  They started with monofins and moved into other innovative training products. Finis is still expanding and are up to about 45 employees from 35 when I arrived at the beginning of last summer.
John Mix is still the president and Mark Stephens is now VP of Product Development.  I had the chance to sit down for lunch with both of them and talk about the ever changing world of swimming and what's new in the market.  Always an interesting conversation to be had.
Luane Rowe, Finis' inudstrial designer and resident Australian, demonstrated their new toy: a 3D modeling tool used to build product prototypes out of various types of polymers.  She demoed it to me by producing a 3D Finis logo.  Very cool.
Finis is known for their unique and particularly useful products.  I can't say too much, but look for Finis to be bringing a couple of really innovative new tech toys to the market this year as well as some brilliant upgrades and reboots of products they already sell.
The next stop on the list was Tri Valley Aquatics (TVA) in Livermore.  I surprised Coach Daniel by showing up unannounced and in even worse shape than last year.  The club is young, the facility at Las Positas College is beautiful and the kids have a lot of fun.  Every time I get in the water there it reminds me of what swimming is really about.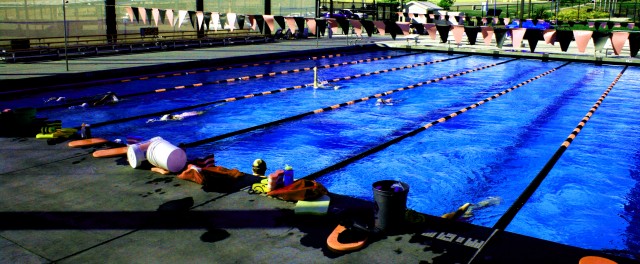 Finally, it was off to the Nike Clearance Store to buy three pairs of size 14 shoes at rock bottom American prices and then to the beach.  Life is rough.
The next time I check in, I'll be on the ground in Omaha where we'll be bringing you full coverage of US Olympic Trials.  If you haven't already, be sure to enter our Trials Pick 'Em Contest.  You could win some schweet SwimSwam Swag and other cool prizes from Engine.