The Edmond Public Schools Aquatic Center in Mitch Park with the American Energy Swim Club (AESC) will be hosting the Oklahoma Elite Pro-Am Meet this Friday through Sunday (Dec.18-21).
As a "Pro-Am" meet, this year's list of professionals include many Olympians and world champions. Breeja Larson, Lara Jackson, Jimmy Feigen, Cody Miller, Miquel Ortiz, Darian Townsend, Derek Toomey, Josh Schneider, Michael Andrew, Mike Alexandrov and Lyndsay Vroom are all expected to be in attendance. The amateur side of the meet is expected to draw 325 athletes from swimming clubs across the country.
The City of Edmond has been known for its progressive culture and the partnership that created the Edmond Aquatic Center is no different. The partnership for the Aquatic Center includes the City of Edmond, the Edmond Public Schools system and the Greater Oklahoma City YMCA. These three groups merged around a common goal of creating one of the best an indoor aquatic spaces in the state. Other amenities onsite include a large regional park, baseball fields, and a senior center.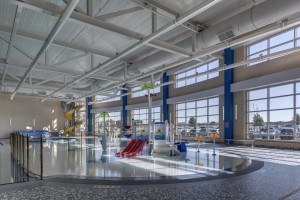 The Edmond YMCA Recreation & Aquatic Center is a 102,000 square foot facility. It is one of the premier competitive swimming venues in the state with seating available for over 1,000 spectators. The Aquatic Center features two bodies of water, a 13,000 square foot competition pool and a 4,700 square foot leisure pool. These two bodies of water offer variety of aquatics programming, including fitness, wellness, rehabilitation, recreation, and high-end competition. The facility is also home to a number of competitive teams, including three Edmond high schools and multiple club teams.
The competitive pool is a 50-meter by 25 yard pool with eight primary course lanes that are over 9'-4" wide. The pool can be set up in a cross course configuration to allow for twenty 25-yard lanes that are 8'-2" wide. A 6' wide bulkhead with starting blocks, as well as a 4' wide turning bulkhead allow for the pool to be set up in many configurations including a center pool race course. Starting from the larger bulkhead allows for competitions to start from the center of the pool and be swum bulkhead to bulkhead. This helps cut down on the rebound effect of the waves and makes for a faster pool for the Elite-Meet's famous 50's.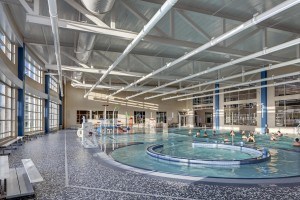 The deep end of the competition pool features two 1-meter diving stands that allows for high school meets to take place at the facility. The water depth also allows for 3-meter diving stands to be added in the future.
A leisure pool features 25-yard lanes as well as a grand stair entry and zero-depth. The pool also offers a warm-temperature than the competition pool and underwater hydrotherapy seating. Both pools have an all tile finish that help will help keep these facilities looking great for many years to come.
One of the key architectural features of the facility is a large wall of retractable glass doors separating the competitive pool from the recreational pools. This feature provides spectacular views on both the recreational side and the competitive side of the aquatic center.
Aquatic amenities for the facility include:
13,000 sq. ft. Competition Pool
Eight 50-meter competitive lanes
Twenty 25-yard cross course lanes
Two moveable bulkheads (one 6' and one 4')
Two 1-meter diving stands
Integrated timing/scoring systems
Depths ranging from 7 ft. to 13 ft. 6 in.
4,700 sq. ft. Leisure Pool
Four 25-yard lap lanes
Grand stair entry
Zero depth entry
Current channel
Underwater hydrotherapy seating
Children's play structure
Water bubblers & various spray features
Enclosed flume waterslide that exits and re-enters the natatorium
Quick Facts:
Design Team:
Design Architect, Interior Design: Brinkley Sargent Wiginton Architects
Architect of Record: Crafton Tull
Aquatic Design: Counsilman-Hunsaker
Natatorium Facts:
Construction Cost: $22.5 million
Total Building Area: 102,000 square feet

Pool Length: 174 feet by 75 feet (2 bulkheads)
Competition Pool Water Capacity:  815,500 gallons
Competition Seating Capacity:  over 1,000 spectator seats
Competition Pool Water Depth: 7'-0" at shallow end, 13'-6" at deep end

Diving: 2 (two) 1-meter Springboards
Local Eats:
If this is your first time at the Elite Meet and you are looking for some local eats in Edmond/Oklahoma City, head down to Meridian Ave. There you will find some of our favorite spots in town, including the Cimarron Steak House. After the meet, treat yourself to steak that meets everyone's budget. After meets, some swimmers have been lucky enough to catch and finish their 40-oz porterhouse special.

The history of Counsilman-Hunsaker is valuable in the context and the confidence it provides. Over the past 45 years, we've led the industry by completing more than 1,000 national and international aquatic projects of every size and complexity. In fact, many of the innovations that are now standard in the industry were conceived by our team.
Counsilman-Hunsaker believes that people of all ages are changed for the better through aquatic experiences and that our services reach beyond just solving design, or engineering or facility operational challenges. Our mission is to create aquatic experiences that transform people and communities, which supports our mantra of "Aquatics for Life". And when we say "Aquatics for Life" we're talking about the lives of humans we serve through every decision from conception, to the detail of daily operations. By focusing and serving the human experience, our full circle approach to everything we do allows us to be your guide every step of the way from facility audits, to program and design, thru facility creation and day to day operations.
Along the way, we've developed an international reputation for innovation and integrity, as people who are passionate about what they do and who do it exceptionally well. Today, our firm consists of an integrated team of designers, engineers and operational specialists with incomparable aquatic industry experience.
SIGN UP FOR COUNSILMAN-HUNSKAER'S NEWSLETTER
CHECK OUT COUNSILMAN-HUNSAKER ONLINE: CHH2O.COM
CHECK OUT OUR AQUATIC INDUSTRY BLOG: HYDROLOGICBLOG.COM
WE DO MORE THAN COMPETITIVE POOLS: SEE OUR PAST PROJECTS HERE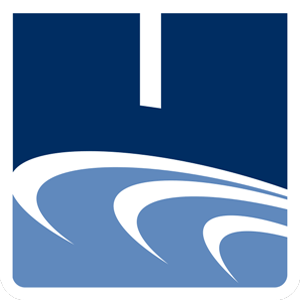 Swimming Industry News is courtesy of COUNSILMAN-HUNSAKER, a SwimSwam ad partner.