Condorelli's ban began on June 24th, meaning it will extend until December 23rd, 2023.

Olga Pavlova, a Vice-President of All-Russia Synchronized Swimming, has been given a two-year doping suspension referencing her time as an athletics coach.

A Rutgers spokesperson told SwimSwam that Ryndych had voluntarily removed herself from the roster on Tuesday.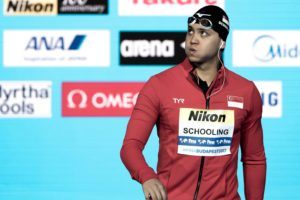 The Rio Olympic champion has been banned from international competition for the remainder of his mandatory service due to substance use protocols
More Anti-Doping

17
Stanford swimmer Isabel Gormley, a 2019 World Junior Championships silver medalist, has been suspended for missing three doping tests in a year.

3
Lekic, who was his country's first-ever medalist at the European Junior Swimming Championships, told the CAS that his positive test was the result of a tainted supplement.

4
The World Anti-Doping Association wants American collegiate and professional sports to sign up for the World Anti-Doping Code. It probably won't work.

5
While the lost points from the USports championships won't cost UBC its 5th-straight team title, it did close the gap considerably between them and Calgary.

24
Iranian National Team swimmer Kia Afzali has been suspended for three years for the use of Oxandrolone, an anabolic steroid.

FINA first partnered with the ITA in January 2019 as one of the first major Olympic Federations looking to further professionalize its anti-doping program.

24
After over 60 years of involvement with the Olympic movement, Pound will retire at the end of 2022.

8
Roman Teryushkov is leading the effort to make Russia no longer subject to the jurisdiction of the Court of Arbitration for Sport (CAS).
Widget
Copy and paste the code below into your web editor to embed this category's top swimming stories into your website.
Here's how the widget will display on your site:
Anti-Doping Swimming News by SwimSwam