With another meet of weeks out of the way, the WISCA Wisconsin High School Girls' Swimming & Diving Rankings have undergone wild swings as teams get more results under their belts and quality starts to outweigh quantity.
#1 in both divisions remain the same, with Middleton leading the Division I big schools (still by a huge margin) and Madison Edgewood taking the top position in Division II (small schools).
The biggest movers in D1 were Arrowhead, who jumped 14 spots to sit 4th in the newest ranking. They took 3rd at last year's state meet. They sit behind Middleton, #2 Cerdarburg, and #3 Mt. Horeb. The result comes after the big Waukesha-South hosted Blackshirt invite last weekend, which Middleton won by a dominant 64 points ahead of Verona-Mount Horeb, Arrowhead, and Waukesha south Mukwonago, in that order. Cedarburg, who still rank 2nd in the latest WISCA polls, were just 5th in that invite.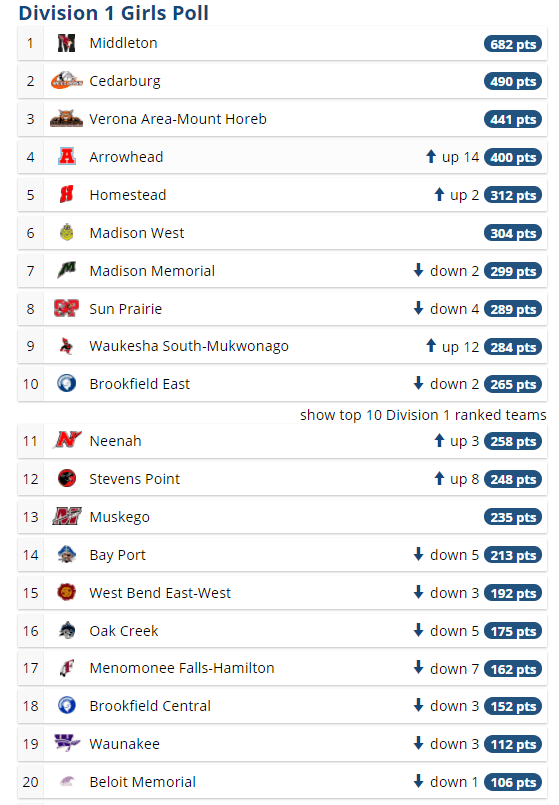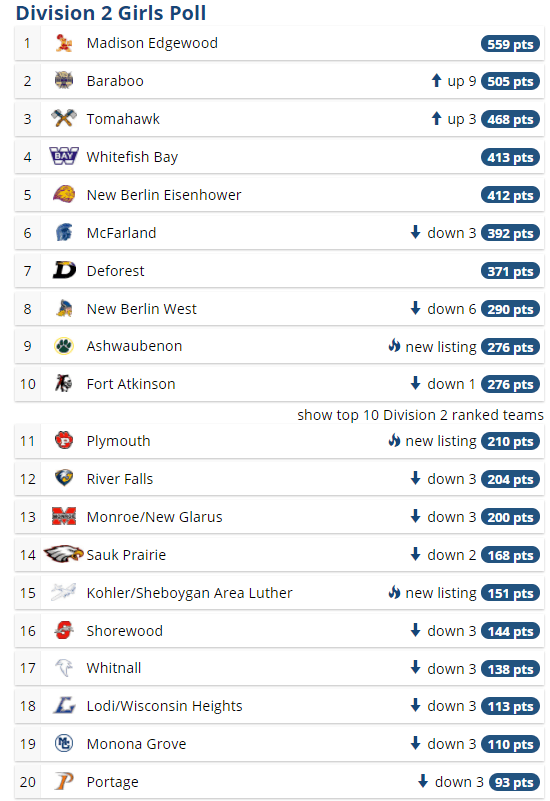 RANKINGS METHODOLOGY
The weekly WISCA polls are computer generated and based on the WISCA Top Times database.
The polls are generated at midnight each Sunday. Individuals are scored in their top two scoring events only.
Points are awarded as follows:
Individuals: 1st Place – 30 points – 30th Place – 1 point (1 point increments)
Relays: 1st Place – 60 points – 30th Place – 2 points (2 point increments)