GMX7 is a SwimSwam partner.
KNOXVILLE, Tenn. – Madeline "Maddy" Banic, the 18-time all-American NCAA swimmer who earned a neck-load of gold medals while swimming for the University of Tennessee and broke out on the scene for the ISL in 2020, has signed with GMX7 as an ambassador, joining GMX7 ambassador and 4-time Olympian Ryan Lochte with sights on ever bigger aspirations for 2021.
According to Banic, while she'll continue swimming with the ISL, her next goal is to hopefully make the U.S. Olympic Team to compete in the 2021 Tokyo Olympics.
"It's definitely my dream, and I'm pretty sure, it's every competitive swimmer's dream, to go to the Olympics," said Banic, who broke the American record for the 50-meter fly at the ISL and was one of the top three breakout swimmers over the 8-week pro league. "I dream about it every day. It's on my phone under my goals to have an American Flag Banic cap from the Olympics."
Banic, who saw major improvements in her performance in 2020, attributes her success to a few key components, which includes practicing less.
That may sound counter intuitive, but it seems to have worked for Banic.
"Before COVID, I was absolutely murdering my body in practices, keeping my heartrate at 170 or above for several hours," said Banic. "But when COVID hit, we weren't able to train indoors, so I started boxing, cycling, running and kayaking and basically exercising outdoors. When I started swimming again, I was putting up decent times and that's when I realized I had really been over doing it before."
Then, at the end of May, Banic met David McCagg, the former 7-time gold medalist who started GMX7 and developed the X1-PRO resistance trainer, which Olympians Ryan Lochte and Caeleb Dressel also use. McCagg met Banic's training group in Naples where she was able to try the X1-PRO.
"At first, I was skeptical. I mean, racks and towers were the standard for resistance training, but the X1-PRO changes that. It really helped me with my underwater," said Banic, who used the X1-PRO twice a week to prepare for ISL Budapest. "Now, I use it all the time and love the X1-PRO because it's not jerky and it travels with you the whole 25 back and forth for continuous training."
According to Banic, her routine typically goes like this. She wakes up at 7:45 a.m., has a banana and gets ready for practice. Then, she's in the pool from 8:45 a.m. until 10:45 a.m. At 11:30 a.m., breakfast includes eggs, avocado, yogurt, some fruit and lots of coffee.
Then, it's time to hang out with her 5-year-old Border Collie-Australian Shepherd mix, named Remi. At 3 p.m. lunch is served which can vary, but often includes a sandwich, crackers, guacamole, salsa and dip. From 6:30 until 8:30 p.m. she's back in the pool. After the evening swim, dinner almost always includes a meat, carb and veggie.
"That's my typical doubles routine, but when I have singles, I'll add in cycling with either a road bike or stationary bike, or I'll do some yoga," said Banic.
In addition to the workouts, and training with the X1-PRO, according to Banic, her other secret to success is her weekly massage.
"It's an absolute must," Banic said.
While 2020 was a tough year for many, Banic, who has publicly discussed her past struggles with depression and has helped others through her transparency, seems to have flourished and discovered more about herself. It has led to the realistic possibility of her perhaps earning a spot to compete in Tokyo at the Olympics for team USA.
"I'm definitely going to try my absolute best to make the Olympics," said Banic. "I think that the ISL season proved that I'm kind of an underdog, but no matter how it goes, look out for the next ISL season."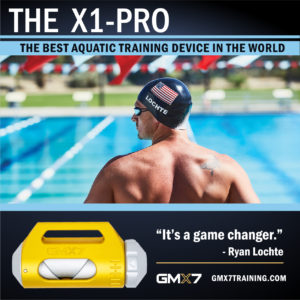 GMX7 is a SwimSwam partner.