Santa's little helpers Larah, Calypso and Laura.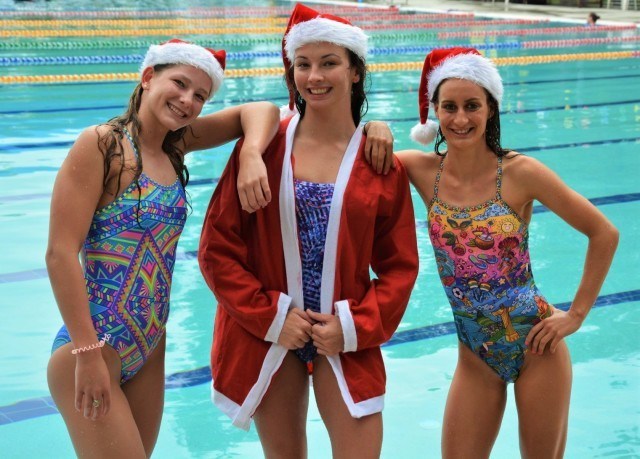 AMANZI Swimmer Larah stands out on pool deck in her favourite, the AMANZI Tribal Vibe One Piece. Larah keeps it bright and colourful with the AMANZI Dreamscape Swim Cap and the brand new AMANZI Axion Aqua & Purple Goggles.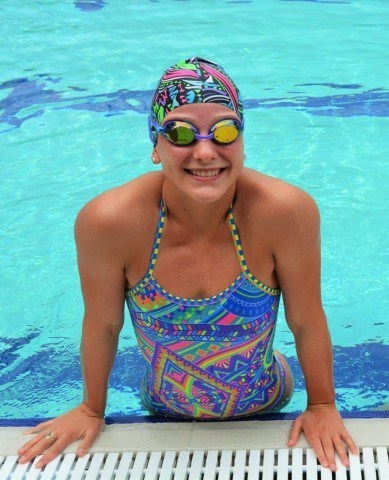 12-year-old AMANZI Girl Kennedy loves the AMANZI A Charmed Life Two Piece, perfect for all our AMANZI Girls enjoying the Christmas holidays at the beach in the Southern Hemisphere.
AMANZI Triathlete Laura's favourite swimsuit is the AMANZI Secret Garden One Piece. The maze of colourful flowers and strong black lines stand out against the white background, making it a beautiful and unique swimsuit. Laura tops it off with the AMANZI Bluebird Swim Cap and the AMANZI Axion Pink and Purple Goggles.

With ten new swim caps and two brand new styles of goggles, these are the perfect little something to fill Santa stockings.
Find your nearest stockist to get the perfect gift this Christmas.
CHLORINE RESISTANT.
BUILT TO LAST.
LOOK GOOD.
SWIM FAST.
'AMANZI' (a-marn-zee) meaning water in Zulu, is an Australian sports swimwear company specialising in chlorine resistant training swimwear for competitive and active swimmers. AMANZI was created to satisfy the needs of the fashion forward athlete with designs that are functional and highly durable.
At AMANZI we understand that swimwear is not just something you swim in, it should also be a reflection of your unique style and personality. We put a great deal of thought and effort into our prints and styles so that you can feel comfortable in your swimsuit and look great! So follow us on our journey and explore the beautiful collection of swimwear we have created this season.
Holidays Swimming Gear News is courtesy of Amanzi, a SwimSwam partner.