British based Kiwi, Kirsten Cameron closed in on Janet Evans 800m freestyle masters world record in Manchester over the weekend at the British Masters Championships. Cameron led the way as swimmers enjoyed the fast waters of the 2002 Commonwealth Games Aquatics Centre.
Cameron, 42, has already broken her own world record in the 1500m long course this season, but the dream swim is breaking Evan's record of 8:59.06. She swam 9:06.86 to establish by far the second fastest time ever and a new European Record.
She said: "I am really really happy with my 800m, 9.06 is right back to my best ever, and what's more, it looks a respectable time next to Janet Evans! The thing about that record is that it isn't just any record, its JANET EVANS, the greatest female distance swimmer ever. So now I am actually thinking 'maybe its not impossible.'"
Cameron was quick to credit her new coach in Leeds, adding: "Since teaming up with David Maxwell there as been so much progress made in the last six months. He is an absolutely brilliant coach; he took on a 40+ year old and has managed me with total maturity and professionalism and attention to detail that often you don't even find in experienced coaches."
Cameron also broke the European marks on the 200m (2:09.92) and 400m freestyle (4:28.24) and helped her East Leeds team mates to another European record in the mixed 4x200m Freestyle Relay with 8:49.04 in the 120+ Yrs age group.
Other individual European records were set during the weekend including Julie Hoyle's 1:14.53 in the 50-54 100m Backstroke and Sally Winter's 2:27.90 in the 55-59 200m Freestyle.
FINA World Championship bound elite swimmer Lauren Quigley blitzed a 1:00.48 100m backstroke in the 18-24 age group. She was one of a handful of elite swimmers who treated the masters to a demonstration of very high level swimming.
For many people the weekend was rocked by the shocking news of the tragic death of Katie Henderson in a car crash at the age of just 33. She is a current holder of national records on breaststroke and 1500m freestyle and a former world record holder in the 200m breaststroke.
She was also a fantastic triathlete who had been selected by British Triathlon as a potential guide for visually impaired triathletes at the Paralympic Games.
Aptly named to suggest 70% of the earth is covered in water, blueseventy is the world leader in the pool, triathlon and open water wetsuits and swimskins. Since 1993, we design, test, refine and craft products using superior materials and revolutionary details that equate to comfort, freedom from restriction and ultimately a competitive advantage in the water. blueseventy products have instilled confidence in beginners as well as carried world-class athletes to countless Olympic and World victories.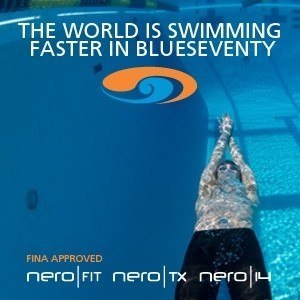 For the latest news and blogs from blueseventy visit www.blueseventy.com.
Twitter: @blueseventy 
Facebook: facebook.com/blueseventy
Courtesy of Helen Gorman and Blueseventy, a SwimSwam partner.