Courtesy of Julia Galan
The classic seaside resort town of Brighton, England is well-known for its energetic atmosphere, its famous Pier and, of course, its beaches – providing plentiful opportunities for open water swimming. Indeed, Brighton was built as a place to encourage and facilitate the benefits of sea water, boasting the oldest sea swimming club in the world. Given this strong swimming-based foundation and a prime location along the coast of Southeast England, Brighton has the potential to become a major global destination for competitive swimmers, triathletes and open water competitors alike. Thus far, however, the city has not possessed the training facilities to attract such prestige.
Until now.
On March 12th, the Brighton and Hove City Council gave initial approval to transform what is currently a derelict waterfront property into an extensive aquatics complex that would cater to triathletes, open water swimmers, and competitive pool swimmers from the UK and abroad. The project, led by developer Copsemill Properties and partners Swimmergy and SwimTrek, would include a heated eight lane, 50 meter saltwater pool right along the seafront, a boardwalk for easy access to the beach, an indoor Endless pool, swimming-specific gym facilities and cycling and running facilities for triathletes, among other resources. Inspired partly by the famous pool on Australia's Bondi Beach, and partly by the open air pool in Dieppe, France, the new sea swimming center in Brighton has the potential to play host to a variety of national and international triathlons, pool and open water competitions. If given final planning permission, the center could be open for business by the summer of 2017.
With many pools in the UK facing closure since the 2012 Olympic Games, the Brighton sea swimming center represents a glimmer of hope amidst an uncertain swimming future. We were curious to hear more about the project, how it started, and what its full potential might be. So we spoke to Rod Hart, head of open water swim coaching system Swimmergy, to get the full story! Read on, and get ready to book your flight to Brighton!
Julia Galan: How did the idea for this project first start?
Rod Hart: The project actually came about by accident. I had been coaching Jon Wright for years and we always got on well, living in Brighton and often bumping into each other running, swimming or cycling along the seafront. About six months ago, he asked me if I'd like to join him in putting a bid in on a derelict site that had been earmarked for leisure use. I didn't even know what his profession was, as we only ever talked swimming! It turns out that he is a joint partner with Joe McNulty in a property development company called Copsemill and Joe also happens to be a keen sea swimmer.
I had never considered anything like this, but we thought it was worth a go. I invited Simon Murie of SwimTrek to join our brainstorming group and after a few meetings over coffee and a few drawings, we asked architect and fellow sea swimmer Richard Brett of We Like Today to give us some input. Ultimately, we ended up putting a proposal into the Council along with at least forty other applicants last September.
JG: Where did you draw inspiration from as you drew up the plans for the swimming center?
RH: Our ideas were based on what we'd like to have for ourselves! Swimmergy needed at least one Endless Pool and studio for our Vasa Trainers and an office. Swimtrek needed offices. I wanted Ben Sherratt, the Sustrans Officer for the area and a leader in getting kids onto bikes and keeping fit, to have somewhere to run his cycle schemes from. We hoped for complimentary practices there such as yoga, pilates and fascial stretch therapy. We wanted to provide changing facilities and showers with lockers where sea swimmers can leave their possessions securely and cyclists can leave their bikes too. We noticed a lack of conference facilities on Madeira Drive – an area that is used for many major events throughout the year. The press need somewhere better than a marquee. We observed that triathletes are not really catered for either despite a growing interest in the sport.
To be honest, our initial thoughts didn't include an outdoor pool – the true enormity of that idea was probably too much to admit, but somehow, someone (can't remember who) said 'Can we put a two-lane pool on that bit of beach?' Then the idea quickly developed into our eight- lane 50 metre pool. It is actually not that much more expensive to build than a smaller pool and really opens up the possibilities of turning this into a serious facility for competition and training for athletes and clubs from across the globe.
The inspiration for the pool plans came from my love affair with Dieppe in Normandy. As a small kid, my parents took me on my first trip abroad, a ferry across the Channel to a place where they don't speak English, the food is different and most importantly there is an amazing 50 metre open air heated sea water pool. That was my first go in one and I have never forgotten the feeling of flying above the bottom with the added buoyancy of the salt water and managing to get to the end, looking back and thinking what a long way it was. I still have that feeling sometimes!
JG: What were the steps that had to be taken to get to the initial approval stage?
RH: After our proposal went in, we didn't hear anything for a while. But then we got word that we had made it to the final twelve proposals. At this point, my partner in Swimmergy, Andy White, was so excited he had to lie flat on the ground and try to control his breathing! Swim coaching is his dream and you can imagine what the thought of a purpose-built facility designed by us would mean to him.
We had a meeting with the council to clarify the details of our bid and then waited again for a few weeks. Then we got to the final six. I rushed to Andy's flat with my de-fib kit and re-started his heart at this point! A couple of months went past and in November last year, we were told that it was between us and one other bidder and that a decision would be made before Christmas. For a variety of reasons the process was delayed and it wasn't until the end of January that we were told that we had got through – we were the preferred bidders!
With this victory behind us, we were then able to seek Landlord's Consent (which is again through the Council) and that meeting happened on March 12th. We were voted through by eleven votes to one.
JG: And what are the next stages in the process?
RH: The next stage will be to go before a Committee on Policy and Resources where we examine our project in greater detail before hopefully going through to the planning stage and public consultation. There are, as you can see, some more hurdles to clear but I'm very confident. We are very fortunate that we haven't experienced any negativity from the people who matter and who know what this project is about. It's also worth mentioning that our project is entirely self-funded and we are not asking for any money from the council.
JG: What are some of your long-term plans and dreams for the center? How will the center serve the local community?
RH: Swimmergy itself intends to focus on coaching once the centre is up and running. That's our passion and I'm developing links with other coaches, clubs and athletes that I'd like to work with, including of course Swimspire and Julia Galan herself!
We will play a huge role in the running of the Centre but may also employ a management company for this side of things, in order to be sure that we are using the facility to the maximum. We want all kinds of aquatic professionals to use our facilities, from lifeguards to triathlon coaches and swimmers of any level or age, from kids and beginners in the sport to national and international squads.
It's so exciting to be able to shape this project from the start and I want to aim high! My ultimate goal and dream is to build a centre of excellence for all things sea swimming related, a centre that will attract athletes from around the world to our beautiful city of Brighton!
Thanks for your time, Rod! We wish Swimmergy, SwimTrek and Copsemill Properties all the best as they continue to advance through the planning stages of the project!
About Julia Galan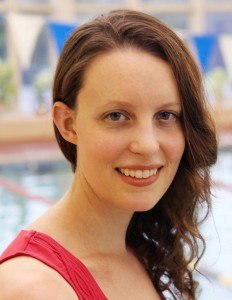 Julia Galan is a lifelong competitive swimmer and a USA Swimming and U.S. Masters Swimming coach. Julia's passion for the sport, for coaching and for writing led to the creation of Swimspire, a coaching and swimming inspiration source geared towards athletes of all levels and goals.
Like Swimspire on Facebook here.