Disclaimer: BlueSeventy Swim of the Week is not meant to be a conclusive selection of the best overall swim of the week, but rather one Featured Swim to be explored in deeper detail. The BlueSeventy Swim is an opportunity to take a closer look at the context of one of the many fast swims this week, perhaps a swim that slipped through the cracks as others grabbed the headlines, or a race we didn't get to examine as closely in the flood of weekly meets.
In this week's Blueseventy Swim of the Week, we take a closer look at Katie Ledecky's ground-breaking swim that could ultimately reconfigure Team USA's entire freestyle lineup for Rio.
We know what you're thinking: "But SwimSwam, Ledecky was already entrenched as the world's best 800 freestyler before she smashed that world record last weekend. That won't change the American Olympic lineup a bit!" That's because the swim we're focusing in on isn't Ledecky's longest swim from the Arena Pro Swim at Austin – it's her shortest one.
Lost in the earth-shattering dominance that was her 800 free was Ledecky's 100 free from night 1, an event where she hit a new lifetime-best at 53.75 in taking second place overall. And while Ledecky is considered as close to a lock as there is in the 400 and 800 frees, this swim suggests she might be able to expand her Olympic lineup even further.
Ledecky's 53.75 has worldwide significance. Firstly, it means she has perhaps a better-than-expected shot to make the American 4×100 free relay for Rio as a prelims swimmer or even one of the four finalists. Compare to last year: Ledecky's time in Austin would have ranked her at #10 in the world over last season, behind only one American – Missy Franklin.
That time is also faster than any American went in the individual 100 free final at the Kazan World Championships, beating out Franklin and Simone Manuel.
Though it's still a longshot at this point, there's been talk that Ledecky could even be in the mix to anchor the 4×100 medley relay. Helping her cause is that two of the top 100 freestylers – Franklin and Natalie Coughlin – may be the backstrokers on the relay in prelims and finals. A prelims swim would basically just be a potential extra medal grab for Ledecky, but if she continues her rapid improvement curve, she could actually be a finals boost to the American relay that lost the bronze medal in Kazan when Australia ran them down over the final 100 meters.
The other major positive for Team USA about Ledecky's 100 free is that the nation's top young female talent is really starting to concentrate around the relay-distance freestyle events. Already, the top American 100 freestylers are the 20-year-old Missy Franklin, 19-year-old Simone Manuel, 19-year-old Abbey Weitzeil, the 20-year-old Lia Neal and now the 18-year-old Katie Ledecky.
Even Margo Geer (23) is far from old, making the current crop of US sprinters a young nucleus that could – if they all continue to develop through their 20s – be world-level factors for the next two, even three Olympics, plus every World Championship in between.
Aptly named to suggest 70% of the earth is covered in water, blueseventy is the world leader in the pool, triathlon and open water wetsuits and swimskins. Since 1993, we design, test, refine and craft products using superior materials and revolutionary details that equate to comfort, freedom from restriction and ultimately a competitive advantage in the water. blueseventy products have instilled confidence in beginners as well as carried world-class athletes to countless Olympic and World victories.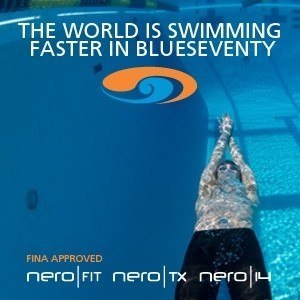 For the latest news and blogs from blueseventy visit www.blueseventy.com.
Twitter: @blueseventy 
Facebook: facebook.com/blueseventy
 Blueseventy is a SwimSwam partner.