On February 9, 2015, Bluegrass Swim Team lost their team captain, Maddie Jackson, in a car wreck while she was on her way to swim practice. I had the opportunity to follow up with Maddie's coach, Roger Kehrt. Losing a swimmer, daughter, sister, teammate, friend, and team leader is devastating, but hearing the story of how the Bluegrass Swim Team picked back up and carried on in her honor is truly inspiring.
Maddie's life exemplified the characteristics that every coach and parent hopes to see in an athlete. She wrote her own mission statement and was the leader of the team. She served as a mentor to the younger swimmers on the team, frequently volunteering with the 12 & under swimmers in the water and on deck. She stressed the importance of putting her teammates first, and lead by example.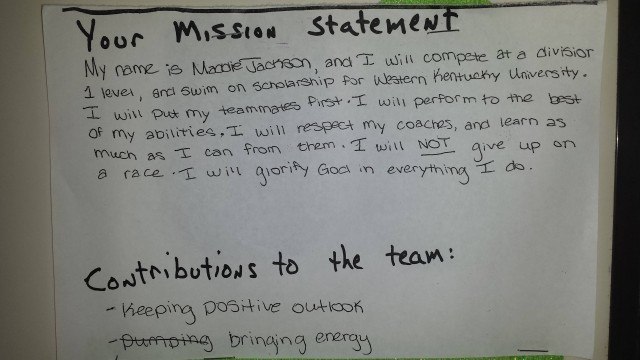 Maddie wrote her personal mission statement 26 months before she died. After her death, Coach Kehrt wrote "Your Mission Statement" on the top of the page and passed it out to all of her teammates.
The last month and a half has been very difficult for the Bluegrass Swim Team community, but they have come together stronger than ever to honor Maddie and the Jackson family. Coach Kehrt recently announced that their training facility will be bought in full and renamed the MADDIE JACKSON AQUATIC CENTER in her name. It is their hope that every child and adult that walks through the doors will be positively influenced and reminded of the impact Maddie's life had on others. The name will officially change in August of 2015 on the six month anniversary of the accident.
"One of the worst fears for anyone that has lost someone too young is that they will be forgotten. We want the community to be reminded of Maddie and the way she lived every time they walk through the doors. Maddie was the most blue collar, hard worker there was. She led by example and was all about her teammates. " – Coach Roger Kehrt
The entire team was affected by Maddie's death, but there were three swimmers specifically that were impacted the most. Maddie's best friend, Claire Goodrum, her training parter, Landon Clark, and her "little sister", Izzy Jackson.
Claire Goodrum, Best Friend
Claire Goodrum was Maddie's best friend, and her passing was especially difficult for Claire. At her first practice back after Maddie's accident, Coach Kehrt told us that Claire was in tears for the majority of the practice. Looking over and not having Maddie next to her was crushing. She was sad and broken hearted, but she wanted to honor her friend.
That day, she stepped up and filled Maddie's shoes as the leader of the team. Their championship meet was not long after the accident, and it was a very emotional meet. Claire had plateaued athletically and had not swum a best time in close to two years. At that meet, Claire "put Maddie in her heart and went out and did what she and Maddie loved to do." Her swims that weekend truly stood out, with best times in all five of her events.
Landon Clark, Training Partner
Maddie was one of the most talented swimmers on the team, and as with most club teams, she raced the boys in practice. Her training partner was a boy named Landon Clark. Bluegrass Swim Team held a remembrance for Maddie on February 10th. Land0n was overwhelmed with emotion and broke down in tears. He also struggled with the loss of training partner, but wanted to swim in her honor. At his championship meet, he dropped five seconds in the 200 butterfly, earning his first winter junior national cut.
Izzy Jackson, "Little Sister"
Izzy, 13, always looked up to Maddie as if she was her older sister. Both Maddie and Izzy were looking forward to their end-of-season championship meet. Maddie had worked hard to buy herself a brand new Speedo suit. Unfortunately, Maddie never had the opportunity to wear her new suit.
In the craziness of the week following the accident, Maddie's suit arrived at her house. Maddie's family was not sure what to do with her suit. After thinking it over, her family and coaches decided Izzy should wear Maddie's suit, because of how close they were. It was not easy for Izzy, putting on her "big sisters" suit, but she went through with it.
At that meet, she dropped from a 1:02.90 100 backstroke to a 58.53 100 backstroke. Coach Kehrt told us he believed that Maddie was with her during all of her swims. She had huge drops in all of her races that weekend while wearing her "sisters" suit.
Maddie was also heavily involved with the 12 & unders on her team. At their championship meet, 88% of the 12 & under swimmers had best times. Maddie was always getting in the water to help with technique, but she also spent a lot of time talking to the younger swimmers about how to mentally approach a race. Coach Kehrt told us he credits Maddie and her leadership for the way his swimmers were able to approach their races mentally that weekend after all that had happened.
It is inspiring to see how strong the Bluegrass Swim Team has been during this hard time, but as Coach Kehrt told us, "Maddie is in a perfect place now, she is home. She will always be remembered for the person she was and we want to honor her life any way we can."
To read more about Maddie and the Bluegrass Swim team, click here.