Courtesy of BioOx, a SwimSwam partner
BioOx, a cutting-edge air cleaning system from Air & Water Solutions, was put to the test this weekend at Valley Central High School as close to 1,500 swimmers came together for the Hawks Trials and Finals Meet. With additional units brought in specifically for the meet, and an updated layout to reflect the vastly increased attendance at the facility, swimmers, coaches and spectators reported a comfortable and enjoyable environment and an absence of the unpleasant symptoms that have come to characterize indoor competition.
"With the BioOx system it's much, much better air quality – no burning eyes, no itchy scratchy throat," said Karen Psilopoulos, a USA Swimming official. "Love it, love it!"
The BioOx system is composed of several free-standing units placed around the edge of the pool deck. BioOx media, a patented solution comprised of organic enzymes (no-chemicals), is added to each unit along with several gallons of water. The enzymes and water combine to form a solution that neutralizes harmful toxins in the surrounding air. Clean air is then expelled through an in-unit fan, which creates several Clean Air Zones around the room. The Clean Air Zones continue to expand and overlap the longer the units are in use, leaving behind crisp, breathable air throughout the entire facility.  
From Ohio to New York to Georgia, pools across the country have seen dramatically improved pool air as a result of the BioOx system. A particular focus of Valley Central was whether BioOx would be up to the task of cleaning the air in a facility packed with upwards of two thousand people over the entirety of the three-day meet. With reactions to air quality varying widely from person to person, Air & Water Solutions added several units to its traditional Valley Central setup so as to ensure that even the most physically sensitive attendees would have a pleasant experience at the meet.    
"We received inquiries from people based on their positive experience with the air at Tennessee, but we also know some attendees at Junior Nationals struggled," said Director of Sales Ken Schapiro. "Here at Valley Central they've had BioOx units for weeks, but we brought in additional units specifically for last weekend to ensure that they could maintain their air quality once the meet picked up in earnest. We're thrilled with the results."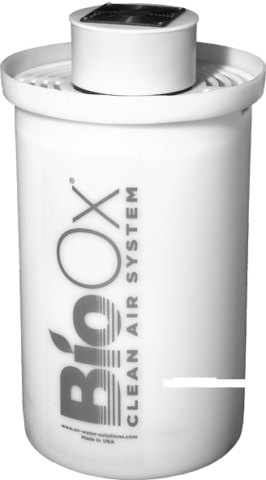 The vastly superior air quality was immediately apparent to veteran coaches and swimmers alike. Amanda Griffin, a former Valley Central swimmer and current coach of a travel team, noted that the teary eyes and itchy throat she'd experienced at the facility prior to the introduction of BioOx were notably absent.
"Day three, almost 20 hours on the deck here, I still feel good, my eyes aren't irritated, I have no problems breathing," she said. "I would highly recommend this system to any aquatics facility, especially if you have any kind of air quality problems."
Swim coach Erin Quinn said she spends most of her weekends on pool decks, where she has grown used to poor air quality.
"For the first time ever, I had a wonderful experience with air quality while coaching a three-day meet," she said. "BioOx does wonders for our athletes and coaches."
David Murphy, a parent who's been coming to meets at Valley Central for over a decade, said he was particularly impressed by the lasting impact of the BioOx units.  
"All of us noticed a difference in the air quality on Friday night," he said. "Today is Sunday and everyone is still commenting on it – the system does work."
About Air & Water Solutions: At Air & Water Solutions, we're changing the way people think about the air they breathe. We're leaving a positive impact on the health of the Earth, and making it a safer, more enjoyable place for the people who live here.
Swimming report is courtesy of BioOx, a SwimSwam partner.