2020 INTERNATIONAL SWIMMING LEAGUE – MATCH #10
Monday, November 9: 4:00 PM-6:00 PM CET (10 AM-12 noon U.S. Eastern, 12 AM-2 AM J+1 Japan)
Tuesday, November 10: 4:00 PM-6:00 PM CET (10 AM-12 noon U.S. Eastern, 12 AM-2 AM J+1 Japan)
Duna Arena – Budapest, Hungary
Short Course Meters (SCM) format
Teams: Aqua Centurions / Cali Condors / LA Current / London Roar
The final day of the final regular-season ISL match #10 is upon us, with Cali Condors entering the session with an overall leading point total of 285. LA Current is still within range of a possible points takeover, sitting less than 50 behind in 238, while London Roar is also still in the mix with 212 points.
As far as the Aqua Centurions, the team looks like a possible contender to be the 2nd team precluded from joining the post-season, but we'll see how things play out as the match unfolds.


As a reminder, the Cali Condors selected breaststroke for the women's skins, while LA Current is going for backstroke for the men's skins.
LANE ASSIGNMENTS
1 & 2 – London Roar (LON)
3 & 4 – Cali Condors (CAC)
5 & 6 – LA Current (LAC)
7 & 8 – Aqua Centurions (AQC)
Recap: Retta Race, Analysis: Jared Anderson
DAY 2 EVENTS
WOMEN'S 100 FREE

It's a huge 1-2 to start for the LA Current. Beryl Gastaldello moves up to #2 in the league this year, passing Sarah Sjostrom and sitting .02 behind Siobhan Haughey for the league lead. Weitzeil improves to #4 in the league this year, leading early but falling behind Gastaldello late.

The two combine for 26 points, with Gastaldello jackpotting half the field. She's going to be in the hunt for league MVP, and looks very good to start today. And, Gastaldello and Weitzeil broke their French and American national records with their swims, respectively.

London's Freya Anderson was a few hundredths off her season-best, but remains #5 in the league for the season, as we had three of the ISL's five top performers in this field.

It's not a good start for Cali, which gets jackpotted out of all points and will see LA climb to within 21, turning a very large lead into a more manageable margin in a single event.
MEN'S 100 FREE
Caeleb Dressel is heating up at the right time. After hitting season-bests in the 100 fly and 50 free yesterday, the Condors sprinter took over the league lead in this event with another season-best time. Dressel was 45.56, two tenths faster than formerly league-leading Zach Apple of DC. Dressel holds the ISL record at 45.22 from last year.

With Justin Ress third, Cali battles back against the rising Current. Cali will add eight points to their lead here, pushing it back to 29.

This is a banner event for the Aqua Centurions, and they got in the way of LA's two point-scorers. Miressi was 5th at the halfway-point, but crushed the field and climbed back to second with the second-best closing split. Chierighini led early, but faded to fourth.
WOMEN'S 200 FLY


Coming off of the first loss of her ISL career last week, Flickinger quickly returned to form with a dominating win here. She was two tenths off her season-best, but blew out the field by almost three full seconds, leading by a second and a half by the 100 mark.

She jackpotted four swimmers, but one was her own teammate Fertel, who also missed the cutoff time and will lose a point.

London put two into the top four and will close a little on LA here. The Current were second with Gasson in a new New Zealand national record, but saw Sargent get jackpotted as their pursuit of Cali has been very up and down so far.
MEN'S 200 FLY


Shields saw an unbeaten streak come to an end in yesterday's 100 fly, but he continued his 2020 win streak in the 200 fly, improving to 4-for-4 on the year.
He also retook the league lead, becoming the first man this year to crack 1:50 in the event. Chad le Clos of Energy Standard passed up Shields for the league lead earlier today, but Shields struck back in a big way here, besting Le Clos' time by about half a second.

Shields is now closing in on the almost-untouchable league record of 1:48.77 held by Daiya Seto.

That's a good outcome for LA, though one of their three jackpots was once again another Current swimmer. London got both of their swimmers in under the jackpot margin. And Cali's Eddie Wang actually passes up le Clos for #2 in the league as this race featured the two best 200 flys of the 2020 season.
TEAM POINTS UPDATE:
Cali Condors (CAC) – 325.0
LA Current (LAC) – 293.0
London ROAR (LON) – 248.0
Aqua Centurions (AQC) – 158.0
WOMEN'S 100 BACK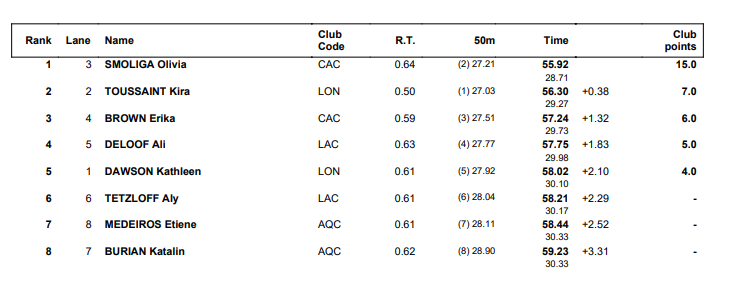 Last week, London's Toussaint handed Cali's Smoliga her first 100 back loss of the year. This week, it was Smoliga's turn to return the favor. Neither swimmer had lost in 2020 prior to last week, but now both have losses to each other.

Last week's times were faster (Toussaint 55.6, Smoliga 56.0), as both swimmers had a little less front-end speed this time around. They remain #1 (Smoliga) and #2 (Toussaint) in the league this season.

Cali used Erika Brown here instead of #4-in-the-league Beata Nelson. That suggests that like last week, they'll be using Nelson instead in the 100 IM. That's especially necessary since the team lost top IMer Melanie Margalis.
Brown filled in quite well here, going 57.2 for third place. She's having a nice meet and starting to show why she was such a sought-after ISL rookie this year coming out of the NCAA.
MEN'S 100 BACK


Ryan Murphy completes a backstroke sweep here, though he still has the 50 back skins to come. Murphy might be one of the favorites for league MVP. He continues to beat loaded backstroke fields and has two skins wins in two tries so far this year. His 49.9 today was three tenths off his season-best, which sits third in the league for the season.

His teammate Dylan Carter was the surprise, going 50.11 in an awesome swim that will sit just outside the top five for the season, but establishes a new Trinidad & Tobago national record. He'll be a sneaky skins competitor – if he can knock one of the bigger names out of the second round of the skins, he'll boost LA's already-considerable advantage in the backstroke skins.

London's Guido, ranked #2 in the league, looks tired this week. The Roar will probably save his rest for the postseason – he was six tenths off his season-best here. And London used Luke Greenbank instead of Christian Diener, perhaps resting Diener up for the skins later on.

A quick score update: Cali leads LA by 41, and LA is 48 ahead of London for second.
WOMEN'S 100 IM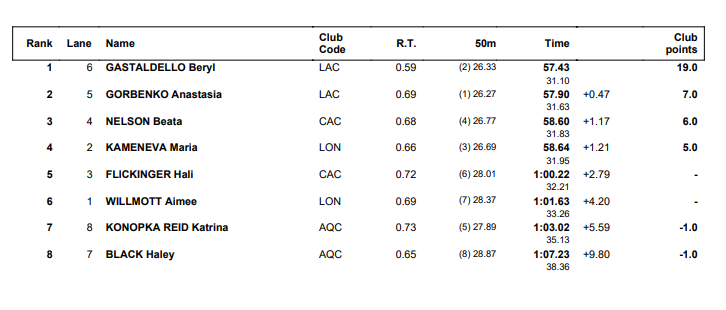 LA hadn't yet tried Gastaldello in this event, instead going with Gorbenko and Weitzeil in each of their first three meets. But Gastaldello might just have to stick with this event in the postseason, even if it creates a very busy day 2 schedule for her.

Gastaldello hit the fastest time in ISL history, going 57.43 to win and take over the league record from Sarah Sjostrom (57.74). Her teammate Gorbenko was second, going 57.90 to become just the fifth woman this year under 58 seconds in the ISL.

Four jackpots means the Current will outscore all other teams by 20 points in this event. They've been absolutely lights out today when Gastaldello has been in the water, and luckily she's got a few more opportunities left. LA is now just 21 points back of Cali with a shot to make a run through the upcoming session. London is now 69 points behind LA in third.
MEN'S 100 IM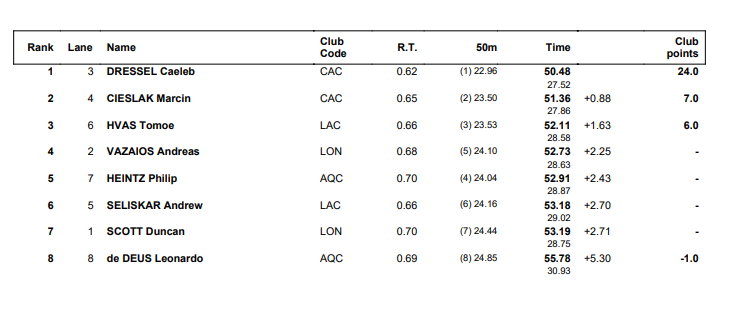 It's another ISL record here, as Dressel takes seven-tenths off his season-best. The time cracks the American record, held by Ryan Lochte from 2012, and it also moves Dressel to #2 all-time in the event behind only world record-holder Vladimir Morozov.

Dressel has yet to lose a 100 IM in the ISL across four meets this year. This time puts him almost a full second ahead of everyone in the ISL ranks, firing up some huge momentum into a postseason that should include all the major 100 IM competitors.

More good news for Cali: Cieslak's second-place 51.36 also passes up Morozov in the ISL ranks, and Cali now has the top two 100 IMers in the entire league on the men's side.

Dressel jackpotted five of his seven competitors, very nearly challenging for the biggest jackpot we've ever seen in ISL competition. The points haul boosts Cali back out to a 46-point lead over LA.
TEAM POINTS UPDATE
Cali Condors (CAC) – 393.0
LA Current (LAC) – 347.0
London Roar (LON) – 272.0
Aqua Centurions (AQC) – 157.0
WOMEN'S 200 FREE


It's a much-needed win for London, their first of the day. Freya Anderson is the #2 swimmer in the league in this event, and her 1:52.8 here is only about two tenths off her season-best. She won this race easily, with a winning margin of more than a second.

Anderson took two jackpots, though one was from her own teammate Hibbott.

For the Aqua Centurions, Italian star Federica Pellegrini had her best swim of the meet here. She was 1:55.1 for fourth-place. Pellegrini missed most of the season after a positive COVID test, one of an army of Aqua Centurions to miss some or all of the 2020 season amid the pandemic. A fourth-place finish here was worth the wait for Aqua, and they'll get both swimmers under the jackpot margin.
MEN'S 200 FREE


Townley Haas gets his third win of the season here. He's unbeaten in this event for the 2020 season, and should be one of the top challengers to league leader Danas Rapsys in the postseason. Haas went 1:41.84 here, three tenths off his season-best. He went out fast and led from wire to wire, grabbing one jackpot for the Cali Condors, who are doing plenty so far to maintain their lead. Cali sits 48 points ahead of LA.

The Roar made up some small ground on LA here, but still have work to do to take over second place. London did go 2nd/4th, with Vekovishchev coming through nicely in second place.
WOMEN'S 50 FLY

Beryl Gastaldello has won eight straight meets in the 50 fly, and continued an unbeaten ISL career here by the slimmest of margins. Swimming a brutal meet schedule today (Gastaldello swam three of the first six events on the women's side, all within about an hour), Gastaldello was just .01 ahead of her teammate Marsh. That's well off a season best for Gastaldello, but will keep her MVP points high even without a skins swim today.

LA made up nine points on Cali here, and added two points to their lead over London.
MEN'S 50 FLY

Szabo gets his fourth win of the season here, adding to three wins last year to keep him undefeated across his ISL career. Despite swimming for two different teams (Iron last year, Aqua this year), Szabo will in all likelihood be the only swimmer in the ISL to go undefeated in a single event across two seasons without ever making a postseason appearance. You could call him the Dick Butkus of butterfly, referencing another sports great who never made a postseason appearance.

Szabo matched his season-best exactly, down to the hundredth. However, he does move down to #2 in the league ranks this week, as Nicholas Santos (who effectively replaced Szabo on Iron this year) went 21.78 in the early match today.

That's a big win for Szabo over Dressel, though, as Dressel had been extremely tough to beat so far this week. Dressel was 22.06 for second, his season-best by four tenths of a second. He moves to #3 in the league for the season.
WOMEN'S 100 BREAST

Yesterday, Lilly King took the first losses of her ISL career in both the 200 breast and 50 breast. But today… it looked like the old Lilly King again. The Cali Condor blasted out to a lead of six tenths in the opening 50, willing her way back into the win column. King's 1:03.15 takes a hundredth off her season-best, and sits just over a tenth back from her league-record 1:03.00 from last year.

London's Atkinson is the #2 performer in the league for the season, and she was second here, holding off a tough charge from Aqua's Carraro.

LA's two entrants were 7th and 8th and lost one point to King in a jackpot swim. Cali continues to dominate team scores, leading LA by 58.
MEN'S 100 BREAST

London is swimming without star breaststroker Adam Peaty, and it stung them here with a 5th/8th showing. The Aqua Centurions took advantage, once again maximizing their strong men's breaststroke group for 17 total points. Nicolo Martinenghi won the 50 yesterday and now adds the 100, going 56.46 and jackpotting London's Greene.
LA rebounded nicely, taking 3rd and 4th. Cali has struggled mightily in men's breaststroke, and they were 6th and 7th here.
TEAM SCORES UPDATE
Cali Condors (CAC) – 454.0
LA Current (LAC) – 402.0
London Roar (LON) – 320.0
Aqua Centurions (AQC) – 213.0
MIXED 4×100 FREESTYLE RELAY

Cali has really started to put it together in this relay. They took eight tenths off their season-best here, moving up to #2 in the ISL and just two tenths off of Energy Standard's ISL record. There's an interesting push and pull here, with other teams decisions mostly just moving around Caeleb Dressel's impact without nullifying it.
When Dressel is an option in the skins, he doesn't swim this relay, dropping Cali more to the middle of the pack in the ISL as a whole. But when teams pick a skins stroke that avoids Dressel (like LA picking backstroke today), Dressel jumps on this relay and speeds it up to one of the league's best. That has to be weighed for any of Cali's postseason opponents.

Dressel split 45.7 here, but the key difference-maker was Justin Ress, who led off in 46.22. Ress has really stepped up lately. He's also one of the team's best 50 backstrokers, so we'll have to see if swimming this relay dulls his skins impact at all. Olivia Smoliga was 52.0 and Erika Brown 52.1 for Cali.

LA was second, just off their season-best. Abbey Weitzeil crushed a 51.1 split trying to run down Brown. An exhausted Beryl Gastaldello was 52.6 in what is probably her last swim of the day.

London got a 51.3 anchor from Freya Anderson, but they missed their season-best by more than a second. Aqua continued to be awesome on its two men's legs (46.7 leadoff for Alessandro Miressi and 45.9 for Marcelo Chierighini), but could only take 6th here.
WOMEN'S 400 IM

Pickrem really went after this race, moving up from #5 to #3 in the league ranks with a drop of 1.4 seconds from her season-best. She took over on breaststroke and never looked back, taking full advantage of the absence of ISL record-holder Margalis for Cali.

Pickrem jackpotted half the field here in a big swing for London. Cali's Flickinger was second, but Margalis's replacement, Fertel, got jackpotted in 6th.

Pickrem also breaks the Canadian record here. London is probably out of it in the battle for second, trailing LA by 70. But LA also trails Cali by 56, so we'd need to see some major jackpots in the skins for the finish order to change at this point
MEN'S 400 IM

Duncan Scott swam a really gutsy race, going out early with the lead. He clearly looked gassed in the final length but held off a charging field to give London a second-straight win.

There were no jackpots here, as the field was much higher than the women's. London was 1st and 8th, so points will even out quite a bit as well.

LA actually outscored all other teams, taking 3rd and 4th.
TEAM SCORES UPDATE
Cali Condors (CAC) – 493.0
LA Current (LAC) – 442.0
London ROAR (LON) – 371.0
Aqua Centurions (AQC) – 230.0
WOMEN'S 50 BREAST SKINS
ROUND 1: King (CAC), Hannis (CAC), Carraro (AQC) & Castiglioni (AQC) all move on

King was actually faster here than she was in the individual 50 breast yesterday – 29.16. Hannis, who won the 50, was a half-second slower, but the Cali Condor duo still easily moved on.

London swam without world record-holder Alia Atkinson here, giving her some rest heading into the postseason. They used freestyler Freya Anderson, who was surprisingly solid in 5th place, but just missed the next round. Two
Condors and two Aqua Centurions will move on in a great showing for Aqua. Martina Carraro and Arianna Castiglioni were both sub-30.
ROUND 2: King (CAC) & Hannis (CAC) move on

Cali's women have swum the skins three times in breaststroke. Now, they've packed the final with King and Hannis in two of the three. King was easily 29.6 for the win, while Hannis stayed just under 30 to move on by two tenths.

There were no jackpots in this round – strategically speaking, King probably would have been better off going all-out in this round and trying to steal some jackpots – next round, Cali's team points are locked in regardless of jackpots.
But in a meet that's pretty much over, King is probably more focused on league MVP points, where she was our mid-season favorite to win MVP but might have to contend with a rising Dressel in the postseason.
ROUND 3: King (CAC) takes the skins win

After taking her first two losses ever in the ISL, King struck back hard today with four total race wins. She won the 100 breast and all three rounds of the skins, back to her absolutely dominating self. King was 29.24, almost as fast as she was in the opening round.
TEAM SCORES UPDATE
Cali Condors (CAC) – 552.0
LA Current (LAC) – 442.0
London Roar (LON) – 375.0
Aqua Centurions (AQC) – 252.0
MEN'S 50 BACK SKINS
Round 1: Murphy (LAC), Guido (LON), Carter (LAC), Diener (LON) move on

The top three were identical to yesterday's 50 back, but LA's Dylan Carter is looking like the big addition.
LA used Tomoe Hvas yesterday and took 7th, but Carter was 4th here and moving on to the next round.

Murphy was 22.85, a great swim to lead the way and take one jackpot. It'll be two LA Current (Murphy & Carter) and two London Roar (Guido & Diener) into the next round. Murphy has won two backstroke skins. Diener has won one and Guido has been a finalist once, so this field is very experienced.
Round 2: Murphy (LAC) & Carter (LAC) move on

This one has huge postseason significance. With LA consistently winning the men's medley, they've been funneling skins races to Murphy, their star. But Carter's rise means the team is even stronger in backstroke. If Carter can knock really good swimmers like Guido and Diener out of the final, then LA is going to have a chance to pack the final against almost any team in the league.

Murphy and Carter each added about seven tenths from round 1. But Diener and Guido each added more than a full second to miss the final.
Round 3: Murphy takes the skins win

Murphy ties King for the ISL lead with three skins wins. And those two are likely among the short list battling for overall league MVP. Both have outstanding chances to swim the skins multiple times in the postseason, thanks to their teams' medley relay dominance.

Murphy only got one jackpot here, coming in the first round. He still winds up with 33 overall points.
FINAL TEAM SCORES