Cal's Tyler Messerschmidt made a difficult decision last spring. He was struggling academically, and so rather than try and push through with low grades and remain on the team as Cal sought a third-straight NCAA Championship, he instead decided to step back, return home to Arizona, get his feet back under him academically, and try to return to Cal with a renewed focus on academics this fall.
Fait accompli.
It only took one word, a #hashtag, via his Twitter account late Thursday night to set the Cal cheering section buzzing.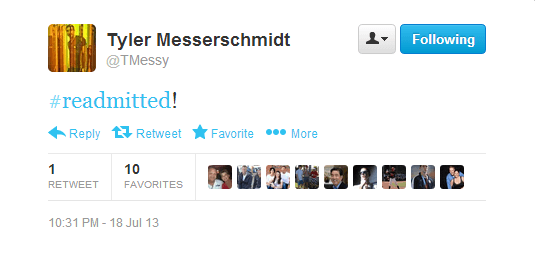 Tyler Messerschmidt has been readmitted to the University of California, Berkeley. To be very specific, there is no guarantee that this means he will swim for Cal next season, as there are hurdles to cross but it is a very important first step.
Regardless of where swimming takes him, the community should be thrilled for a young man who righted his own ship and accomplished readmission, but if he is able to return to NCAA competition, he will mean big things to the program.
Though the team's best swimmer Tom Shields, and their best breaststroker Trevor Hoyt, are graduating, with incoming freshman Ryan Murphy an immediate huge scorer at NCAA's and Messerschmidt's return as one of the top sprinters in the NCAA, Cal would be right back in the hunt for the NCAA title after finishing 2nd last year.
At the 2012 NCAA Championships, as a then-freshman, he was 9th in the 50 free at NCAA's in 19.45 (the 2nd-fastest freshman, behind only his teammate Seth Stubblefield), 12th in the 200 free in 1:35.04, and 8th in the 100 free, and the only freshman to score, in 42.82. That year, he was an important complementary piece to what Cal already had as they won a relatively-narrow 40-point victory over Texas.
It would be a huge boost for Cal's hope to get back on top of the swimming world if Messerschmidt is able to make a full return.