Courtesy of Jehn Kubiak
10 words from a doctor completely suffocated me in the deep end: I want you to give up swimming for a while. No, I said. What do you mean, give up swimming? I thought I would become insane. I weighed only 94 pounds at this time, so even though I went to the pool almost every day, my doctor made me prioritize health over joy.
Sacrificing swimming improved my physical condition at the time, but it also wreaked havoc on my emotional well-being because I lost my primary source of stress-relief. As a result, my anxiety skyrocketed and I suffered from panic attacks every other day for a couple months.
Albeit I've never swam competitively, swimming became a huge part of my life as a high school freshman when my family moved to a house with a 15-yard lap pool. I knew I wanted to eventually become a lifeguard, so I trained hard each day. By 2:30 p.m. after school, I sported an ultramarine and cobalt-striped silicone TYR swimming cap, charcoal mirrored Speedo goggles, and a navy blue Dolfin swimsuit. My parents would disagree, but swimming came before chores in my mind. Swimming eventually became another world and an escape from horrible things that happened each day.
According to Calm Clinic, anxiety activates the fight or flight system––also known as the endocrine system––which releases adrenaline into the body. Although the body uses this as a natural defense mechanism, anxiety triggers the endocrine system because the mind perceives danger. As a result, heart rate increases and blood vessels constrict. The body later goes into the resistance phase, where it releases cortisol that can devastate the immune system.
Swimming counteracts these negative effects because, like any form of exercise, it releases serotonin and endorphins, according to Clear Comfort. The long muscle movements necessary in swimming help stimulate these stress-reducing hormones and promote nerve cell growth. Water submersion, especially in cold water, also produces mood-boosting effects.
Any of my family members and friends that know me well say I always leave the pool with a smile on my face. A cloud of doom can hover over my head as I walk across the pool deck, lay my gear down, and stretch. However, an instant surge of energy and drive arises the minute I jump in a pool––a complete 180-degree shift.
Distance swimming particularly helps me overcome anxiety because I carve out a significant chunk of time each workout for a multiple-lap set, which can range anywhere from 800-yards to 4,800-yards. This is the equivalent of a half-mile to a three-mile stretch. Even though I may start my workout with an anxious mind, I eventually slip into a rhythm where my body takes over and I don't even think about what I'm doing anymore. All the day's worries slip away and my mind falls into a peaceful state.
In addition, distance swimming helps tremendously with breathing. Anxiety often causes shallow breathing and chest pain, according to a University Hospital Southampton factsheet. Both of these symptoms alter my swims at times. My worst workouts occur when I breathe too shallowly or fast, but my best ones happen when I breathe slowly and fully. Sometimes, I'll incorporate more stroke drills with my pull buoy just so I can focus on breathing. After swimming, my lungs always feel fuller and my normal breathing pattern returns.
I finally dove back into the pool in June after reaching an acceptable weight level. Since this return, my anxiety has decreased and I've managed it much more effectively than I did during the four months I spent outside the water.
Pull. Catch. Stroke. Breathe. Repeat for 50×50 yards. The average person may consider this everyday routine monotonous, yet it's my escape from everyday life. Distance swimming has considerably decreased my anxiety in a way other stress-management techniques have not.
About Jehn Kubiak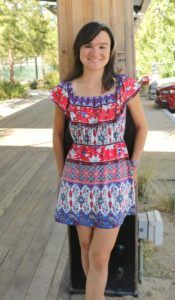 Jehn Kubiak is a Biola University journalism graduate and a current pastoral care and counseling major at the Talbot School of Theology. She is a San Diego native who enjoys writing and distance swimming. She has lifeguarded for two and a half years at Forest Home, Camp Pondo, and the Biola Pool.