SwimSwam welcomes reader submissions about all topics aquatic, and if it's well-written and well-thought, we might just post it under our "Shouts from the Stands" series. We don't necessarily endorse the content of the Shouts from the Stands posts, and the opinions remain those of their authors. If you have thoughts to share, please send [email protected]
This "Shouts from the Stands" submission comes from Megan Porter:
I'm not on a swim team. I'm not a lifeguard, referee, coach or a swim parent. I'm a 20-something millennial trying to figure out adult life. But when I'm getting to know someone new I tell them, 'I am a swimmer.'
Some people definitely chose swimming, but for others swimming chooses them. Neither path is better than the other because we all end up in the pool either way. Some of my earliest memories are from the swimming lessons my parents enrolled me in the beginning when I was five years old. Lessons led to joining my country club's swim team when I was eight until high school. I participated in other sports such as soccer, basketball or softball, but swimming was always a constant factor in my life. It didn't matter that many of my friends didn't swim because it was something I enjoyed and was just as much as a staple in my life as the peanut butter and jelly sandwiches in my lunchbox.
So when high school began and I could only choose one sport swimming was obvious. After my freshman season ended and most of my teammates hung up their suits, I continued to stick to the sport in other ways. I became a lifeguard, taught swim lessons, and was an assistant coach for my town's recreation team. When I entered college and was practically assaulted by an overwhelming amount of student activities and clubs, I still found my way back to the pool for workouts on my own and with the club swim team. After I graduated a few years ago, it wasn't even a question of whether or not I would continue swimming. Fortunately, there is a fitness club near my office with a pool where I still swim today.
Swimming is one of my greatest loves in my life. There are no words to describe stroking in a humming rhythm, the power of pulling through the water or hitting the wall without an ounce of oxygen left in my lungs. But the reason I love swimming so much is because of the lessons that stretch past the pool. Voluntarily going to 8:30 pm practices in college or getting up at 5:10 am today before work tests one's determination, passion and discipline. I've met some of my best friends because someone in the lane or locker next to me showed me the power of how one kind word can lead to a wonderful friendship. Most of all, when I have work deadlines coming up fast, keys to find, a dentist appointment to make, or a million of other life problems to deal with I do what swimming has taught me to do; I take a deep breath, put my head down and push forward with everything I've got. These lessons, which I re-learn during every morning workout and not the ribbons or team t-shirts, are what make me proud to say that I am a swimmer.
About Megan Porter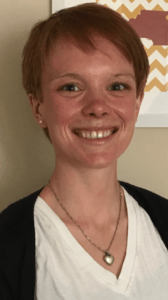 Megan has been swimming since age 5 in various bodies of water for various teams. She has also been a lifeguard, swim coach and swim teacher for many years. Originally from Westwood, MA, Megan now lives in Raleigh, NC and continues to swim as well as hike, bike and run as much as possible.