Courtesy: Milligan Athletics
MILLIGAN COLLEGE, Tenn.– Milligan College has hired Spencer Scarth to serve as head coach of the swim team. Scarth is a former NCAA Division III All-American who comes most recently from Vassar College, where he served as assistant coach.
"We're pleased that Spencer is joining the Milligan community," said President Dr. Bill Greer. "Spencer's experience with a competitive program as academically focused as Vassar makes him well qualified to take Milligan's swim program to the next level."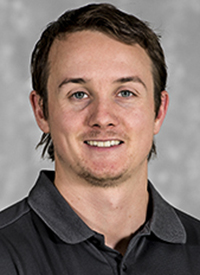 During his two-year stint as assistant swimming coach at Vassar (Poughkeepsie, New York), Scarth helped the Brewers obtain four NCAA "B" cuts, including a top-four backstroker, and one NCAA regional diving qualifier. Scarth also coached one NCAA All-American, two Liberty League Rookie of the Year swimmers and five conference champions. Vassar broke 26 school records and was a CSCAA All-Academic team all four semesters under Scarth's tutelage, and the men's team finished as high as seventh nationally among Division III programs.
"My wife, Allison, and I are beyond thrilled to be joining the Milligan community," Scarth said. "I look forward to transitioning to head coaching at the NAIA level and am eager to begin working with our motivated student-athletes. I know that we will accomplish great things in the coming years both in and out of the pool."
Prior to Vassar, Scarth gained experience at University of Texas as camp counselor and assistant coach, RACE Aquatics as head age group coach, and several high schools and summer swim leagues as an assistant coach. Scarth also has experience as a personal trainer and in strength and conditioning.
Scarth holds a bachelor's degree in biology and exercise science from St. Olaf College (2014) and a master's degree in exercise physiology, with a concentration in strength and conditioning, from University of Louisville (2016). He was a two-time NCAA Division III All-American and an 11-time conference champion while swimming at St. Olaf.
Scarth is originally from Redding, Connecticut, and is married to Allison Van Winkle.