Club Wolverine pros Michael Klueh and Emily Brunemann made their own unique bit of history this week, becoming – as far as we know – the first married couple to qualify to represent Team USA at the same international meet.
The duo will actually be USA teammates in two different international meets this summer, the 2015 FINA World Championships in Kazan, Russia and the 2015 Pan American Games in Toronto, Canada.
Klueh jumped onto the Pan Am team last summer, qualifying in the 200 and 400 frees. Then last week, he was named to the Worlds team for the 800 free relay after Matt McLean withdrew due to injury.
Meanwhile, Brunemann was competing at Open Water Nationals, and her high finishes earned her a slot in the 25K at Worlds and the 10K at Pan Ams.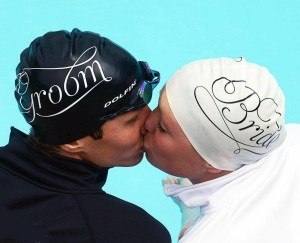 Klueh, a Texas grad, and Brunemann, a Michigan alum, were married last fall, and now train together with Club Wolverine's large professional group in Ann Arbor. Brunemann, of course, has been producing an ongoing SwimSwam series on mental health in athletics – you can read her most recent installment here.
We caught up with the power couple for a quick Q&A:
Q: What was your first reaction when you found out you'd both be going to the same meets with Team USA?
Emily:  I was so excited when I found out we would be on the same team for Pan American Games.  After open water nationals I knew it would be likely I would be picked up for Worlds as well. Then the following week it was released that Michael made the team too – so nice!  We have such polar opposite traveling schedules and many times I would come home to him leaving and vice versa.  I mean, when we got engaged, four days later I left for WUGS [World University Games] and he was leaving soon for Worlds and some of the World Cups.  We didn't see each other for a month and a half after getting engaged.  Due to our schedules, we still have not taken our honeymoon, which we have planned for this August, but it will be so nice being able to travel near him during July too.  The hard thing is there is not much overlap with open water and pool teams.  We normally get sent home before pool swimming starts, but I am trying to find a way to stay for the pool swimming at Worlds. I want to be able to cheer on all the members of the World Championship Team.
Michael:  Heading into Open Water Nationals, I had yet to be named to the Worlds team. Emily is such a tough and tactical racer that I believed she would at least qualify for Pan Ams with me but hopefully finish in the top 2 and race the 10K at Worlds. The way it worked out, she ended up 4th and qualified for Pan Ams – pretty cool! This will be the first trip we go on together since 2010 Pan Pacs when we were dating. The following week we both ended up accepting Worlds positions, which brings an even higher level of excitement. However, it is bittersweet for both of us. Emily has put so much passion into this sport with dreams of qualifying for the Olympics. That dream may be all but gone now, but she still gets to compete in the highest level in our sport this year. For me, my promotion came due to an injury of a close friend. Matt McLean lived with Emily and I when we trained at FAST and he was in our wedding last fall. It's hard to see such a dedicated, tough man continue to face the adversity that he has throughout his career. But Emily and I know those qualities will prove to be the reason why he bounces back to have a big, successful summer next year at the Rio Olympics.
Q: Do you guys get to room together? Or does USA Swimming still split you up with different teammates?
Emily:  I want to room with him but I do not think that is allowed.  He keeps me calm and happy at competitions.  Since getting married I have definitely made Michael McBroom jealous because any time we do go to any other meet together I room with my Michael and McBroom has to find someone else.
Michael:  Haha. I'm not sure that's a subject I want to approach Frank [Busch] and Lindsay [Mintenko] with. Besides, McBroom would get lonely.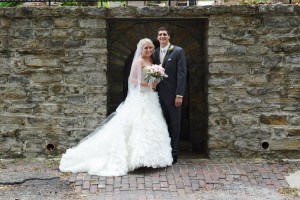 Q: When you're at meets together, do you act like husband and wife? More like teammates?
Michael: I'd say more like teammates at the pool and a couple when away from it all. Even at practice, I prefer to focus all of my energy to the task at hand. Emily is always really supportive of me no matter what; at the end of the day, we are each other's best friend too.
Emily: Michael said it all!  It is nice being there for each other because we are each other's strength so when one of us doesn't perform how we want, the other is there to pick them up.
Q: Texas and Michigan aren't necessarily the biggest of rivals, but is there any of that college rivalry between you two?
Emily:  OBVIOUSLY MICHIGAN IS BETTER THAN TEXAS haha.  In all seriousness whenever Michigan and Texas play each other in sports we have a rivalry during that time but otherwise I don't think it is anything too big.
Michael: For sure! When we were both seniors in high school, Texas beat Michigan in the Rose Bowl. Vince Young was unstoppable! But in college, even before I met Emily, that rivalry was huge for me. I was roommates with Sean Patton, twin brother of Michigan swimmer and US National Teamer Matt Patton. We always got caught up in the battle between Texas and Michigan superiority. Matt, Sean, and I still jest around frequently on this subject. But it's been hard understanding Matt recently – every other word out of his mouth is "Harbaugh" – not sure what he's yapping about…
Q: Any major pros or cons to having your spouse around as you travel and compete at these types of big-time international meets?
Emily:  There are so many pros to having Michael around when I travel.  I just feel more comfortable.  The only con I can think of is I get so much more nervous for his races than mine!
Michael:  Yes, like I said, we are each other's best friend and biggest supporter. The presence of the other can help break down some of the anxiety and tension that builds up pre-race, and we always know that no matter the outcome, we will always love and be proud of each other.
SwimSwam note: We know there have been dating couples competing for Team USA at the same international meet in the past (including, as mentioned in the Q&A, Klueh and Brunemann several years ago), but we haven't been able to find any married couples prior to Klueh and Brunemann. Do you remember someone we don't? Let us know in the comments section!