If you want the SwimSwam Magazine tattoo issue with the Anthony Ervin cover, you must be a subscriber.  You can subscribe here.  This issue ships March 22nd and takes ten business days to arrive in-home for domestic subscribers. 
With your yearly subscription,  you receive over 600 of pages of swimming's highest quality content, and another 750+ pages of digital issues, going back to the first issue produced.
SwimSwam Magazines are a big, coming in at nearly a pound per issue. We provide you four massive print issues designed to sit on your coffee table like a piece of artwork.  With your subscription today you get the:
2015 Year in Review (Michael Phelps cover) as a digital magazine
2016 Swimsuit Issue (Ryan Lochte cover) as a digital magazine
2016 Olympic Preview (Michael Phelps cover) as a digital magazine
2016 College Preview (Katie Ledecky cover) as a digital magazine
2016 Olympic Year in Review (Michael Phelps cover) as a digital magazine
2017 Swimsuit Issue (Anthony Ervin cover) as a print magazine
2017 Summer Preview as a print magazine
2017 College Preview as a print magazine
2017 Year In Review as a print magazine
If you are already a subscriber, go to swimswam.com/magazine/digital-access, type in your email/password and view the digital magazines.
See 10 reasons to love SwimSwam Magazine for our upcoming issues. 
ONE
You want Anthony Ervin, the oldest man to win an individual Olympic gold, memorialized in all of his INK glory.  Tony walks his own path, one less traveled, and celebrated writer (and author) Kip Fulbeck explains why and how in detail.
TWO
All issues going forward will have a big theme, one topic we cover in-depth. For the spring issue, it's TATTOOS. In the future, we're searching for the top themes and topics we can find. If you have an idea, email us and share it.
THREE
Go behind the tattoos. We all know the strokes, we know the meets, we know the times. But the spring tattoo issue peels back the onion and reveals personal stories, beliefs, and narratives that make the swimmers more than just their medals.
FOUR
This is also the spring SWIMSUIT ISSUE.  The biggest brands in swimming roll out their best tech suits and more.
FIVE
The SWIM CAMP GUIDE is new, but for everyone who loves a great camp, we include the top SWIM CAMPS in the nation in the spring issue.
SIX
If you subscribe to SwimSwam Magazine, you can also buy back issues.   If you want one or more back issues, we have increased our printing because of demand. On the subscription page, check the box by any of the back issues to add them to your order.

SEVEN
Our magazines are massive. The 2016 Olympic Year in Review comes in at 172 pages. (That's an increase of 40 pages over the 2015 Year in Review, which came in at 132 pages.)  The Tony Ervin cover issue is also 172 pages!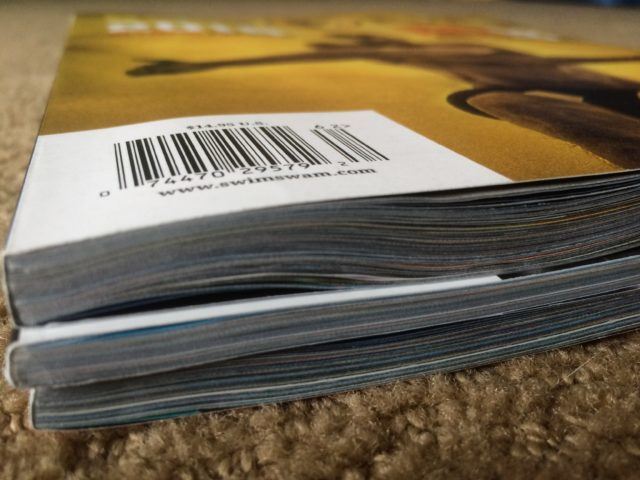 EIGHT
The quality is high. SwimSwam Magazine has perfect binding (like a book), heavy card stock, and an expensive cover finish. If you haven't subscribed, you simply don't know. You feel it the instant you touch the magazine. The texture is amazing, and you'll love how heavy it feels in your hands. Issues are nearly a pound.
NINE
Our covers are ideal for your coffee table or nightstand. Make a statement, show your swimming love, show that your sport is great and worth the respect it deserves.  Adorn it with SwimSwam Magazine.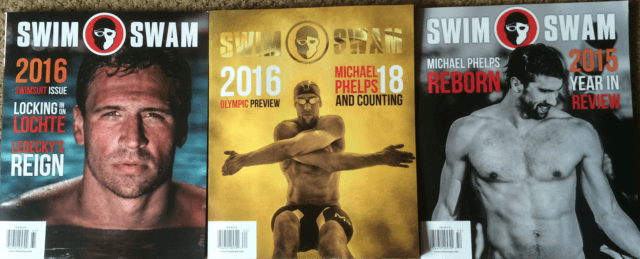 TEN
SwimSwam Magazine named one of the 30 Hottest Launches of 2016
Competitive Intelligence of Media Leaders (MIN/Mr. Magazine) named SwimSwam Magazine one of the 30 Hottest Launches of 2016. Criteria for making the 30 Hottest list included:
Design
Creativity
Audience reaction
Industry reaction
Many thanks to MIN for this honor.  See the complete list of the 30 Hottest Launches here.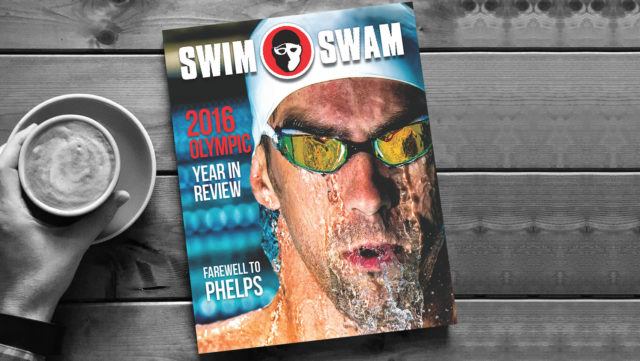 To knock you over with each issue, producing a must-have magazine that feels like a collector's item.
To produce unique features never before seen in swimming media.
To present swimming like it should be, the greatest sport on earth.
At SwimSwam, we love the sport, and we love changing the paradigm of how it's presented. For far too long swimming magazines have been the same, and it our goal to deliver something spectacular, a magazine you will be excited about getting every single time a new issue is released.