Michael Phelps' mark on the sport, after 22 Olympic medals, will have a ripple effect for generations.  It already has a name: The Phelps Effect. Michael hasn't been shy about his goals in swimming: "change the sport, motivate and inspire people to achieve their dreams."
If Michael has affected your life, share it here. We're going to keep this column going. Submit your own Michael Phelps testimonial, no more than 500 words, for possible inclusion in this series, "Dear Michael Phelps."  I'll start us off…
Summer, 2007: I rolled over in bed, "Tif," I said to my wife,  "I miss swimming. I want to be involved again. I think the sport's changing, and…I don't think it'll ever be the same."
Backstory: In my day, swimming was different, a 3rd tier Olympic sport behind track and field and gymnastics that got passing respect eight days every four years.  Swimming was small, felt small, even at the world-class level.  At times it could be almost embarrassing in social situations. The conversations always went the same way: "Oh wow, you're a gold medalist? Cool. Swimming, huh? So…did you play b-ball, football, anything else?" Awkward pregnant pause…. "You know, why does someone choose swimming? I mean, you're just going back and forth, and back and forth. Maybe if you tossed a shark or alligator in it might be more interesting. Now that would be good television."
Belly laughs all around. I'd smile and fake a chuckle. On to the next topic. You might think I'm kidding, but if I had a nickel for every time that exchange happened…
Summer, 2000, Sydney Olympics:  I'm eight years past my Olympic win in the 200 butterfly, and I'm not in the sport at all. Swimming's a part-time interest.  Someone else, a non-swimmer, tells me this Aussie, Ian Thorpe, is going to be the next Mark Spitz, and that Gary Hall Jr. will star again for Team USA.  I watch and enjoy, but it's mild, emotionally detached entertainment…until the 200 butterfly final.
Tom Malchow wins. I'm happy for him. I know how much work he's put in, how much he's given up. I feel a kinship with him, a 200 fly-brotherhood.  I also catch the last 30 meters of the second American, this Michael Phelps kid. Whoa, he closes fast. I know he's young, but until I hear the announcer say he's only 15, it doesn't sink in. Suddenly I'm on my feet, yelling at Tif, "That's incredible! That's a kid…a baby, swimming like a man!"
Summer, 2004, Athens Olympics: Michael wins eight medals, six of them gold. He's only 19, siding up to NBC host Bob Costas, saying he wants to change the sport. His performance was stunning, but on camera he came across like a 19-year-old, one with stilted media training.  He can't equal it again in 2008, I thought, when he's old enough, mature enough to really get the message across. More than anything else I concluded, any kid who has put this kind of work in will surely flameout in the next few years. Swimming's too tough to keep this kind of success going.
At the time, I was jaded. I'd been living in Los Angeles for a dozen years, and I knew swimming needed more. Sadly, I didn't think performance alone could deliver the sport the type of respect it deserved.  No one really cared that Phelps trained miles upon miles.  I felt the sport's greatest ambassador needed to have some sex-appeal to pull-in a huge audience, one that would stop and maybe, just maybe, become a little educated about what it takes to be a world-class swimmer.
Then I saw this July, 2007 cover story on Men's Journal: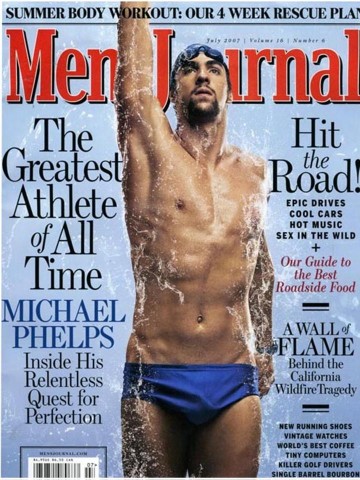 Michael had grown up. The image was captivating, the image of a swimmer that might attract an audience outside of an Olympic year, and it said all the right things. Michael was in top form and on-track to repeat in Beijing, but, more importantly, the story put into context what that meant, posing the question: Is he really the greatest athlete of all-time?  Sex appeal wasn't necessary, though Michael was clearly maturing into a handsome, young guy. Bottom-line: Michael was earning global attention with good ol' fashion hard work and staying power.
At World Championships in Melbourne, Michael went seven for seven in the gold medal hunt, but watching his 200 butterfly was like a religious experience; six to seven dolphin kicks off each wall, a precise and gorgeous stroke. To me, Michael looked like a master artist painting the most beautiful 200 meters I'd ever seen.
http://www.youtube.com/watch?v=if1nhtb7PfE
After Worlds, that's when I rolled over in bed and said to my wife, "I want to be involved again." Seven months later I was on deck at the Missouri Grand Prix watching Michael, in person. He put down a 1:53 in-season 200 meters butterfly.  I could barely talk, scarcely put into words what I had witnessed other than one feeling. This is real.  Michael is truly great.
I can't remember the last time I had an awkward conversation with someone who finds out I'm an Olympic swimmer. The tone is completely different now. I'm asked about times, about split-times, about who's in contention at the next competition. Strangers with no tie to the sport whatsoever understand that since the hi-tech suits have been banned that world records are mind-blowing performances.
The Phelps Effect has already happened. More kids are entering the sport, and more will follow for generations, but Michael has also raised the prestige of swimming for every swimmer that's ever invested years of emotion, energy and hard work. Personally, I walk a little taller and feel a little prouder.
Dear Michael, I know many people who swim or swam have similar stories, and I know they feel as grateful as I do for your 22 trips to the medal podium.  Thank you…just, thank you.