This week's BSN Sports Swim Team of the Week is the Keiser University Seahwaks of Fort Lauderdale, FL. The Seahawks compete in the National Association of Intercollegiate Athletics (NAIA), where their men's team won their 2nd-straight title this March.
At those NAIA championships, the Seahawk racked up the accolades, including 20 individual All-Americans, five All-American relay teams, and 13 national championships. Additionally, head coach Adam Epstein was named the 2019 NAIA Coach of the Year, junior Marcel Nagy was named the NAIA Swimmer of the Year, and freshman Pol Roch was recognized with the NAIA Swim of the Meet for his NAIA record-breaking swim in the 400 IM.
BSN Sports Team Ambassador Jessica Hardy spoke with Epstein to get some insight into his coaching philosophy, as well as what make the Seahawks special. According to Epstein, the Seahawks' coaching philosophy boils down to focusing on "quality over quantity with an emphasis on heart rate and pace."
Every successful team has something that makes its chemistry stand out, and for the Seahawks, it's the international flavor brought by a diverse pool of athletes.
We have 17 different countries represented on our team so the melting pot makes it fun & multi-cultural with all the languages. When everyone comes together with different points of view, it makes it fun for the sport
When it comes to empowering student athletes to be leaders, the Seahawks staff brings what could be described as a bit of an old school approach.
We talk about communication and how you need to have face to face communication so words don't become misconstrued via text. It's ok to have tough conversations as long as you're honest and don't hide behind emojis and Instagram and all that other stuff.
While Keiser has risen to the pinnacle of the NAIA, Epstein realizes that school like Keiser sometimes still face an uphill battle in getting high school swimmers' attention.
The biggest struggle for me as a coach is the education to domestic kids on the benefits of swimming at the NAIA or Division II or III level – more than just level I. We're making sure were at Juniors, Sectionals, Features, making sure our presence is known as well as by word of mouth.
Keiser has had plenty of experience in coaching outside of the main three NCAA levels of college coaching, as he was previously an assistant at junior college powerhouse Indian River. His favorite coaching memory? Being part of the staff at Indian River when the fastest 50 freestyle in the country belong to a NCAA Division I school, but rather Indian River's Brad Tandy, back in 2012.
ABOUT BSN SPORTS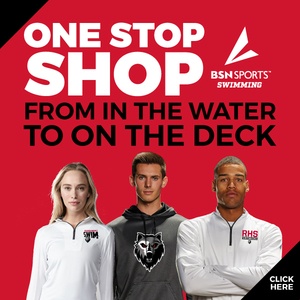 Founded in 1972 as a factory-direct equipment company, today BSN SPORTS is the largest distributor of team sports apparel and equipment in the United States, with over 3,000 employees across 80 regional offices. At BSN SPORTS we believe that sports have the power to change lives. At the heart of what makes sports happen are the coaches, teachers and mentors who work with young and old alike to build meaningful lifelong experiences. That's why our mission is simple. The more time we save coaches with everything they do off the deck, the more time they can spend changing lives. And that's the real final score.
Get your swimmers in custom team gear with your team's logo. My Team shop provides a one-stop-shop solution to custom apparel, suits, footwear, equipment and accessories. It's simple to setup and the My Team Shop platform can even serve as a fundraising solution to earn dollars for your program. To set one up today email us at [email protected] or call 1-877-217-9027.
To learn more about BSN sports visit us at www.bsnsports.com/ib/swimming.
BSN SPORTS SWIMMING ON Instagram – @bsn_swimming