Disclaimer: BlueSeventy Swim of the Week is not meant to be a conclusive selection of the best overall swim of the week, but rather one Featured Swim to be explored in deeper detail. The BlueSeventy Swim is an opportunity to take a closer look at the context of one of the many fast swims this week, perhaps a swim that slipped through the cracks as others grabbed the headlines, or a race we didn't get to examine as closely in the flood of weekly meets.
A huge year of swimming kicked off last week, and for Michigan sophomore Paul Powers, it was a great start.
The sprinter won a pair of events at the 2016 Orange Bowl Classic, most notably a lifetime-best 50 freestyle that bodes well for the rest of his 2016 season.
On their training trip to Florida, Michigan competed in the annual Orange Bowl Classic meet, a four-team showdown in a short course meters pool in Key Largo, Florida.
Though short course meters aren't very often swum by American athletes, Powers hit a new lifetime-best in the 50 free, going 22.19 to blow out the field by nearly a full second.
A rough conversion from our Speedo Time Converter sets that time on par with a 19.9 in short course yards or a 22.9 in long course meters. Regardless, it's three tenths faster than Powers' previous career-best, which stood at 22.48 from a World Cup meet in 2013, according to USA Swimming's database.
Maybe more impressive was Powers' relay prowess. He dove in the water as Michigan's anchor leg in the 200 medley relay, trailing Air Force by eight tenths of a second. Powers blasted a 21.38 split in pursuit, coming up just short of the relay win, but bettering his own individual swim by eight tenths of a second.
You can find full results of the Orange Bowl Classic here.
Aptly named to suggest 70% of the earth is covered in water, blueseventy is the world leader in the pool, triathlon and open water wetsuits and swimskins. Since 1993, we design, test, refine and craft products using superior materials and revolutionary details that equate to comfort, freedom from restriction and ultimately a competitive advantage in the water. blueseventy products have instilled confidence in beginners as well as carried world-class athletes to countless Olympic and World victories.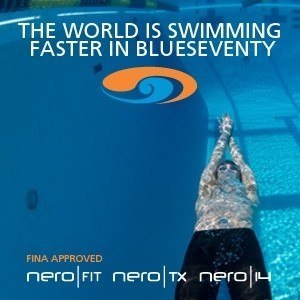 For the latest news and blogs from blueseventy visit www.blueseventy.com.
Twitter: @blueseventy 
Facebook: facebook.com/blueseventy
 Blueseventy is a SwimSwam partner.