Disclaimer: BlueSeventy Swim of the Week is not meant to be a conclusive selection of the best overall swim of the week. The BlueSeventy Swim is an opportunity to take a closer look at the context of one of the many fast swims this week, perhaps a swim that slipped through the cracks some as others grabbed the headlines.
Last week saw the first big deluge of mid-season college invites, and with them, the first of this season's NCAA "A" cut swims. (You can find our rapid-fire, three-sentence recaps of 17 of the biggest invites here).
But amidst all the speed happening around the country, one race was on another level entirely.
Stanford freshman Simone Manuel, long considered the top prospect in her class, kicked off college invite season in the biggest way possible, anchoring the Cardinal's 400 medley relay Thursday night in a 45.81. No, that's not a typo. You read it right. 45.81. The fastest 100-yard relay split in history and the first female ever to crack the 46-second barrier.
We've been trying to put the swim into words for the past 5 days. Loretta Race used ellipses: "Manuel split an out-of-this-world 45.81….let that sink in…Freshman….splitting 45.81″ (from our Day 1 meet recap). Yesterday, I speculated that Manuel had "broken the laws of physics." Editor-in-chief Braden Keith called her entire meet "one of the greatest sprint performances that we've ever seen in yards swimming," and our Twitter account asked followers to sit down before breaking the 45-second news.
Maybe the best reaction came in the form of fan replies to that tweet. You can read the exchange below, but a couple of swimming fans were originally confused as to why SwimSwam was making such a big deal out of a 45-second split. After all, many guys at the Division I level can break 46. The moment of realization, though, mirrors what we all felt when we actually realized what that swim meant:
Maybe the most accurate part about that exchange? The final line: "That changes everything."
It's true that Manuel was far from an under-the-radar swimmer prior to last weekend's Art Adamson Invite. But even so, that 45.8 relay split is the definition of a game-changer. Manuel goes from a strong NCAA contender to the most dangerous sprinter in the nation by a wide margin. Manuel merely repeating that split at NCAAs would mean the Cardinal is practically un-bury-able in any 400-yard relay – Manuel could potentially erase a lead of a full second or more on anyone, even one of the nation's other elite sprinters. It sounds like the tagline of a horror movie: If Manuel's on the blocks… no one is safe!
This changes everything. Suddenly, it looks like merely rating Manuel as a blue-chip talent and #1 prospect in the nation was somehow underrating her abilities. She's starting to move into that Katie Ledecky territory (in short course, at least), where her times could compete with many of the men her own age. Depending on how she continues to develop, and if we see this same type of explosion in the long course pool, Manuel could shortly be joining Ledecky and Missy Franklin as the American icons of women's swimming.
Even narrowing our focus from international to just the college scene, Manuel's performances have huge impacts on the swimming landscape. There's a long season to go, of course, and nothing is guaranteed at this point. But if all the Cardinal freshman does in the post-season is match her previous season-bests, she's already one of the best sprinters in the entirety of college swimming history, a likely multi-event NCAA champ and the most-feared relay anchor ever.
And if she finds a way to do more come March than she did last weekend? Then watch out, NCAA, because the game's about to change again.
Aptly named to suggest 70% of the earth is covered in water, blueseventy is the world leader in the pool, triathlon and open water wetsuits and swimskins. Since 1993, we design, test, refine and craft products using superior materials and revolutionary details that equate to comfort, freedom from restriction and ultimately a competitive advantage in the water. blueseventy products have instilled confidence in beginners as well as carried world-class athletes to countless Olympic and World victories.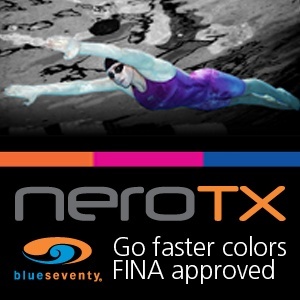 For the latest news and blogs from blueseventy visit www.blueseventy.com.
Twitter: @blueseventy 
Facebook: facebook.com/blueseventy
 Blueseventy is a SwimSwam partner.