Both Middleton and Madison Edgewood remain at the top of their respective divisions following the release of the WISCA Poll on October 7th.
Division 1 
Middleton still remains the top team in division 1 after five weeks of retaining that position. Their lead has dropped, however not by anything significant. They're still over 100 points ahead of second place Arrowhead.
This weekend Middleton won the Highlander Invite which featured nine of the top 12 division 1 teams.
Arrowhead made a big jump this week, moving from 5th to second with 386 points. They're just one point ahead of Waukesha South-Mukwonago who remain in third with 385 points.
Brookfield East is the only other team that moved up in the rankings this week. They're now sitting in seventh after their eighth place ranking last week.
Sun Praire fell down from second to fourth despite coming in second at the Highlander Invite. They're only 22-points behind newly ranked number two Arrowhead. Madison West dropped from fourth to fifth and Verona Area-Mount Horeb are now ranked eighth after being ranked seventh last week.
Cedarburg remains in sixth, Germantown in ninth, and Menomonee Falls-Hamilton in 10th.
No new teams have entered the top 10.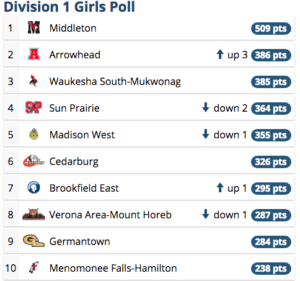 Division 2 
There have been no changes to the division 2 rankings since the September 30th rankings which saw plenty of change.
Madison Edgewood still sits on top of Baraboo by 121 points, leading the division for the third week in a row. Madison Edgewood has been ranked first four out of five times this season. On September 16th they were ranked second to Whitnall by 20 points. Whitnall now sits fifth over 200 points behind them.
Baraboo took home the win at the Waunakee Invite this past weekend, winning seven events.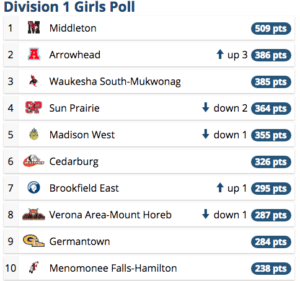 RANKINGS METHODOLOGY
The weekly WISCA polls are computer generated and based on the WISCA Top Times database.
The polls are generated at midnight each Sunday. Individuals are scored in their top two scoring events only.
Points are awarded as follows:
Individuals: 1st Place – 30 points – 30th Place – 1 point (1 point increments)
Relays: 1st Place – 60 points – 30th Place – 2 points (2 point increments)