Courtesy of Kalina Emaus
In life we will encounter thousands of people that we have a chance to impact, sometimes these will be direct and other times we may never know those we touched. In swimming, there will always be someone who came before us and always someone who will come after our time is done. As I begin to wind down my swimming career I spend time thinking about the legacy I hope to leave for those who come after me and I realize any legacy will not just be because of who I am but also of the culture and attitude of those who came before me.
Today, and for the rest of my days, I say thank you! To the selfless, grateful and brave individuals who came before me, to the swim program and college that has given my teammates and myself the chance to follow our dreams, and to the community for their support: I say thank you for leaving people and places better than you found them.
To my community: there are no words to describe what a difference you have made in my life and for many other students. Each individual I have encountered has shown the greatest support, lending of a helping hand, and encouragement. You help build our program by your overwhelming support to us as individuals as well as and our program as a whole.
To my former teammates; thank you for being you and the people that you are. Each of you has meant something different to me. Some of you have shown me the example of incredible strength in adversity, others have shown me the value of hard work in and out of the pool, while others of you have shown me the value of giving back to the community. All of you have shown me different things through your own unique personalities and shown me the joy in coming together as one. Thank you for teaching me that swimming is a privilege and something to be treasured.
To those who began and continued our swim program: thank you to those people that came before me. Thank you for leaving the message "I was here." You left inspiration to those who would follow in your footsteps, teaching us to try new things and to make a statement with our lives. You did this: you tried something new and because of that our program began, and you did something that mattered. You nurtured and built this program, and left a foundation that continues to expand and grow. Thank you for this as well as for your continued support in all that we do.
I am honored to be part of an incredible swim team legacy. I have inherited its strong foundation from the swimmers and coaches that began this program, my former and current teammates, and the community that surrounds my college. That legacy came before me, impacted me, and will continue to grow after I graduate. Thank you!
About Kalina Emaus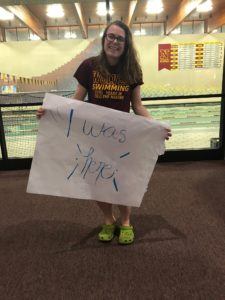 A native of Hudsonville, Michigan, Kalina is currently a student-athlete at Northern State University. Naturally curious geography geek who outside of the pool loves traveling, collecting license plates, running, and volunteering.  She has dreams to become a teacher and aspires to make this world a happy place.