2017 U.S. NATIONALS/WORLD CHAMPIONSHIPS TRIALS
Tuesday, June 27th-Saturday, July 1st

50-Meter Course
Indianapolis, Indiana
Once again, a big thanks to Barry Revzin for compiling all this data on the fly and coming up with another batch of cool visualizations on today's swims!
Today, three of the five biggest drops came from highly-seeded athletes. In fact, Leah Smith's explosive 400 IM was the biggest drop of the day for any swimmer, and she started with the 8th seed. Smith wound up winning the national title and escaping the DQ onslaught.
Mallory Comerford and Caeleb Dressel each had huge drops out of the 100 butterfly races as well.
TOP 5 TIME DROPS FROM DAY 3
Overall:
Among Top 16 Seeds:
VISUALS
Bonus: Women's 100 Fly
Kelsi Worrell's 50 fly last night proved her head-and-shoulders ahead of the rest of the American butterfly field – literally. But she'll run up against Sweden's Sarah Sjostrom at Worlds, and Sjostrom has found herself that far ahead of the world in recent years.
Here's a quick bonus visualization of the finish field in Wednesday night's 50 fly final, compared to where Sjostrom's best time would place her:
Nationals Final: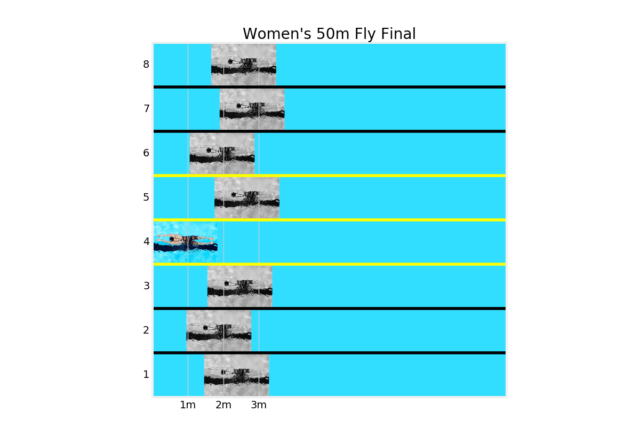 With Sjostrom: