FROM DR. ANDREW CHADEAYNE, INVENTOR OF SWIMSPRAY:
This summer, I had the opportunity to represent SwimSpray at Olympic Trials in Omaha, Nebraska.  I had not been to Olympic Trials since 2000, when I swam the 200 backstroke for the Princeton Tigers.
Why should an Arlington Virginia company travel to Omaha?  Well, I was hoping to catch up with some of SwimSpray's partners from over the last year.  Plus, I wanted to cheer on the 15 Princeton Tigers swimming in the meet (I wonder if that's an Ivy League record).  I also wanted to cheer on some celebrity swimmers who have tried SwimSpray, e.g., Ricky Berens, Dana Vollmer, Chloe Sutton, Garrett Weber-Gale, and Janet Evans, as they made their bid for the 2012 London Olympic Games
The trip far exceeded my expectations.  I was reminded about how great it is to be part of the swimming family.  Several interactions went something like this: Oh, you're a swimmer–me too–I like you–I like you too!
I quickly learned that Farrell's Bar was the place to socialize with swimmers outside of the meet.  I went there each night and met all sorts of swimmers, including the SwimSwam team.  After working with them over the phone and internet for six months, it was great to chat with Mel, Braden, Garrett, Davis, and Tiffany in person.  One of my favorite stories from this trip is Mel walking around the bar area and convincing people to let him spray SwimSpray in people's mouths.  "You gotta get your vitamin C.  It's good for you.  A whole day's supply!"
My other favorite story from the week was how I got a SwimSpray T-shirt to Ryan Lochte.  At the meet, I met up with Doug Lennox, Sr., a fellow Princeton swimmer from the class of 1974.  He introduced me to his friend Cheryl.  She struck me as the portrait of a swimming mom: She was fired up for her son's swim.  As it turned out, her son was Ben Hesen, a serious contender to make the team in the 100 back.  And Ben was in serious contention to make the team in the 100 back.  Notably, Ben's roommate at the meet was Ryan Lochte.  This was the guy who recently told in Glamour magazine "my skin always gets so dry from the chlorine."  This was a person that needed SwimSpray.
"Shower with me, that's great," Cheryl told me, "I bet Ryan would like a shirt like that."  The next day, I brought a couple of shirts – one for Ben and one for Ryan and she delivered them, along with some SwimSpray.  I just don't think that sort of thing happens with any other sport.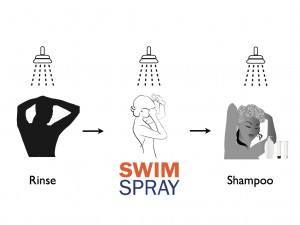 Dr. Andrew Chadeayne is a Ph.D in Chemistry, Master Swimming National Champion, and the inventor of SwimSpray. Follow him on Twitter @swimspray and fan him Facebook.