SwimSwam thanks SwimmersBest for sponsoring "Drill of the Month."  This is a SwimSwam recurring feature that brings drills and idea submissions from various creative and innovative coaches all over the world.
February's SwimmersBest Drill of the Month comes to us from Scott Thompson, head coach of Oaklantis Swim Team in Oakland, CA. Thompson swam at the University of Florida under coach Gregg Troy. At UF, Thompson was team captain and achieved a United States Olympic Trials qualifying standard in the 400-meter IM.
Thompson has been on the coaching staff of the Gator Swim Camp (FL), Scarlet Aquatic Club (NJ), Oakland Undercurrents (CA), Temescal Aquatic Masters (CA), Birmingham Athletic Club (MI), and the Arete Swim Camp (NJ).
Oaklantis is the only year-round swim team in Oakland and is on a mission to expand access to swimming by building a quality program that is affordable to all; the team has a "nobody turned away" policy.
"We wanted to do something a little different – we wanted to talk about integrity," Thompson said. "We believe that character development and athlete development are inseparable. Integrity is super important when we do any drill. We're always doing drills in swimming, and in order to get the most out of the drill, you have to do it right, you have to do it correctly, and you have to have integrity. And that carries over into everything you do in life, and that's why swimming is such a great sport."
How to perform Build-a-Fly drill:
"Build-a-fly is an intermediary between any fly drills you do – single-arm fly, three kicks/one pull, whatever you're going to do – into going to swim butterfly without having your stroke break down."
The drill runs as a series of 25s.
On the first 25, kick as far as you want underwater (up to 15m) and then take one "great" butterfly stroke with a soft entry. "Throw the arms, press the chest," Thompson said. Then swim catch-up freestyle the rest of the length.
On the second 25, kicks underwater up to 15 meters, then take two "great" butterfly strokes, and swim catch-up free the rest of the way.
Continue to repeat on 25s (ie. third 25 has three fly strokes, fourth has four), and continue until you swim the whole way fly, at which point, you've competed a set.
Repeat sets as needed, or try with 100s or 200s.
Check out the drill below:
ABOUT SWIMMERSBEST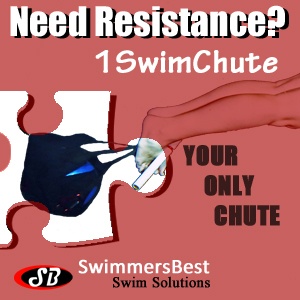 SwimmersBest is leading the way for the future of swim training equipment.  The company offers a broad range of solutions for improving stroke technique, kick technique, and breathing technique.   They provide swimmers, coaches, and teams with the tools they need to balance technique training with conditioning training.  By combining the best drills with the best tools, the SwimmersBest products give swimmers instant tactile feedback so they can adjust their technique efficiently.   The old way of having coaches constantly remind swimmers of their individual problems has proven to offer very little improvement in technique.  All SwimmersBest products are designed to constantly 'talk to the swimmers' so they can feel the problems and make corrections.   This unique approach means the swimmers are given negative feedback for incorrect stroke technique, which compels the swimmers to quickly correct the problem on their own. With a constant flow of new innovative product designs, SwimmersBest is a company that will continue to deliver solutions you need.
Swimming gear news courtesy of SwimmersBest, a SwimSwam partner.