Job Description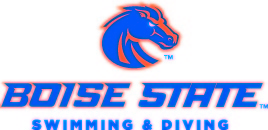 Boise State University Swimming invites applicants for the position of Volunteer Assistant Women's Swimming Coach. We are seeking a motivated, aspiring coach who will assist with coaching a highly competitive Division I swimming and diving team. Duties include on-deck coaching, possible team travel, assistance with organizing and administering day to day team operations, on campus recruiting, and additional duties as determined by the head coach.
Job Requirements
Ideal applicant will have experience as a competitive swimmer and as a competitive swimming coach at the club, high school, or college level, as well as a desire to learn and grow as a coach. This is an unpaid position but there are other opportunities for income outside the athletic department that are not associated with this position.
Salary information: this is a volunteer position
How to Apply
Please send all inquiries to Kristin Hill, Head Women's Swimming and Diving Coach ([email protected]).
About Boise State Swimming and Diving

Boise State Swimming and Diving has won four of their last five conference championships, including the 2014 Mountain West Championships, and had six swimmers compete at the NCAA Championships this March. Boise is Idaho's metropolitan research university and is consistently ranked as one of the top 10 places to live in the United States. A cosmopolitan city located in the foothills of the Rocky Mountains, Boise offers outstanding recreational activities within and just outside the city. The team had the 5th top grade point average in the country among Division I programs this year, and finished the 2014 season ranked first in the Mountain West Conference for APR (NCAA Academic Progress Rate). The university offers over 200 major fields of study with an 19:1 student to faculty ratio and small class sizes in a beautiful university setting that sits along the Boise River.
Boise State Swimming and Diving on Facebook
Follow Boise State Swimming and Diving on Twitter @BroncoSportsSD
Swimming News / Swim Job is courtesy of Boise State Swimming and Diving.