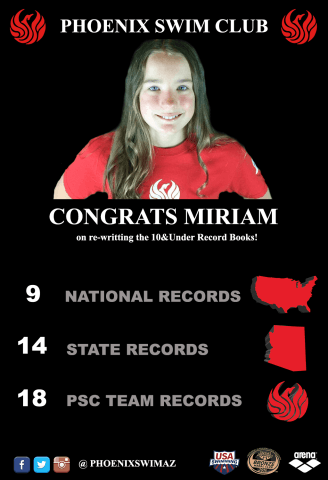 Miriam Sheehan of the Phoenix Swim Club capped off her incredible 10 & under career on Sunday, her birthday, with one last National Age Group Record before moving up to 11-12's.
Sheehan swam a 59.67 in the 100 yard fly to break the 59.80 done a few years earlier by Regan Smith; Sheehan also broke Smith's 100 back record on Saturday.
With that swim, Sheehan will finish her time as a 10 & under with 9 National Records, 14 State Records, and 18 team records at the Phoenix Swim Club – a program that has trained Olympians in the past from it's youngest age groups and up.
Sheehan's record-breaking ways are likely not finished yet. She's already just a few tenths shy of the LSC's 11-12 100 yard backstroke record that was set just 6 months ago by Asia Minnes at 57.21.
Above, watch the race video, courtesy of Ideal Dimensions. Very notable is the high level of control Sheehan has of her butterfly, something not frequently seen in swimmers in her age, and equally important in a short course pool she has no wasted motion coming through her turns on the walls – something young swimmers can struggle with.