Courtesy of Kalina Emaus
About a week ago the NCAA released the swimming time standards for the 2017-2018 season.  As I was looking at the new cuts and assessing my goals I could not help but think what will happen if I don't achieve these times, will all the years put into swimming be worth it.
I once heard of life being referred to as a dance, something about being 10 percent circumstance and 90 percent perspective.  This year feels in a way like being thrown into turbulence on a flight that I do not know where I am landing.  Although I try to work on different things to ensure I land safely in the end of the season there's no way to guarantee I will be where I want to be. I have one other goal though that means more to me than hitting any time or receiving any medal.
My goal now is to work towards significance, not just top performance.  I have dedicated 14 years to the amazing sport of swimming and I want to finish my college career to say, it was worth it.  I could easily say it was worth it as I genuinely love swimming.  Honestly, I want to keep swimming after college.  But, if I have loved this sport since I was six, but never helped anyone I will have wasted over 15 years.  After my last mile, I want to say it was worth it no matter how that race ends.  To have it be worth it my number one focus is now on my character and the story I leave behind.  My identity was and never will be "I am a swimmer." If I leave the legacy of being "a swimmer" at Northern I have failed.  I owe more to the supporting community of Aberdeen, my hard-working coaches, my dedicated teammates-current and present, caring professors, and the future of this team than being "just a swimmer."  I owe it them to slow down enough to consider what is real and show appreciation that they are in my life.  I yearn to treat others with respect and more often wear a smile.  I hope to have a balance between focusing on improving my times for the team, but also keeping the big picture in mind that success in this sport does not mean success in real life.  I will most certainly mess up, but I will have fun and strive to stay in the present moment with this precious time I have left as a college athlete.  With two years left I long to leave behind a story of hope to the wide-eyed dreamers that will dive off the same blocks, and walk the halls as I did.  Through every step they take I want nothing more to leave what I learned from my story to help them: to believe everything will work out how it is supposed to, not to worry so much but instead enjoy the wonders of each day.  They are never alone and have what it takes to positively impact the world with a little curiosity.
If I can leave a story behind that helps others and can give back to those who have helped me, then no matter what times I go, all the time spent will be more than worth it.
Kalina Emaus Bio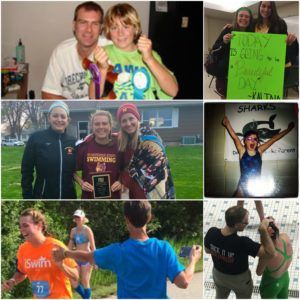 Native of Hudsonville, Michigan and currently a student-athlete at Northern State University with hopes of becoming a teacher. Naturally curious, avid license plate collector, lover of traveling, running and volunteering. Passionate about geography and trying to make the world a happy place.