The HardCoreSwim of the week for this week goes to Muscatine (Iowa) High School freshman Sarah Schemmel and Taylor Beadle for their performances in a dual meet last Tuesday against Pleasant Valley High School.
Though in the team tally, Muscatine was overwhelmed by a score of 122-64, Schemmel and Beadles were the stars of the meet, despite just barely beginning their high school careers.
Schemmel won the 100 yard free in 53.79 on Tuesday, which broke the school record of 54.72, a record that had been minted only three days prior by fellow freshman Beadle.
Beadle, though she lost a record, claimed one of her own, taking second in the 500 yard free in 5:12.93.
Beadle first won the 200 yard free in 1:56.04, and then in a rematch with Kaitlyn Housenga (another freshman from Pleasant Valley) took just second, but got another school record. Housenga won in 5:11.12.
This meet (full top 3 results can be seen her from the Quad City Times) showed off the rise of swimming in Iowa, where the pre-high school age groups have seen a lot of success, which is now hitting the high school level in a loud way.
The Muscatine boys have had a better run of success than the women's team, as the three-time defending Iowa State Champions. The Muscatine girls placed 23rd at the Iowa girls' meet.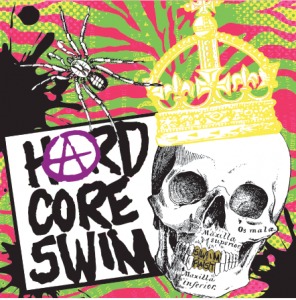 Founded on the pool decks of Southern California, HARDCORESWIM examines and explores the ethos of the hardcore swimmer. HARDCORESWIM is an authentic and innovative designer, marketer and manufacturer of premium quality men's and women's swimsuits, Custom Team Swim Suits, training gear, clothing, accessories and related products. Our true, authentic, innovative, iconoclastic, and creative style differentiates us from the bland competitive swim industry and gives us reason to be. All made in the USA. Check us out atwww.hardcoreswim.com or find us at www.facebook.com/hardcoreswim .
Follow HardCoreSwim on Twitter here.