This week Conference USA announced that Florida International University has been awarded both the Swimmer and Diver of the week
Swimmer of the Week; Kyna Pereira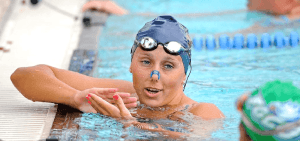 Kyna Pereira, who hails from Umkomaas, South Africa, won  8 of the 8 events that she competed in this past weekend at FIU's Dual-a-Palooza; earning her Swimmer of the Week honors for the first time in her career.  Pereira, who specializes in distance free, swam a C-USA best time in both the 1000 free (10:06.76) and 200 free (1:50.38). Pereira began swimming for FIU last season, but she sat the fall semester out and made her debut for the Panthers in January of 2015 in dual competition against Florida Gulf Coast. Prior to her time at FIU, she competed at the African Championships and Short Course Worlds in 2012. Additionally, at the 2014 South African Championships, Pereira placed 4th in the 400 free and 3rd in the 800 free.
Diver of the Week: Rebecca Quesnel
Canadian sophomore Rebecca Quesnel was awarded Diver of the Week- for the seventh time in her career- for her performance at this past weekends series of meets. She qualified for the zone championships in all three events that she competed in this past weekend. She also set personal bests in the 1 meter and platform diving events.
After a busy weekend, FIU has a break from competition for a few weeks. The Panthers return to action when they host Illinois on November 6th.