This week's BSN Sports Swim Team of the Week, the Pleasanton Seahawks, is a year-round competitive club team located in Pleasanton, CA, and is in its fourth decade of empowering young people to be champions in and out of the water by offering high-qualify professional coaching and technique instruction.
Head Coach Steve Morsilli founded the Seahawks back in 1982, and in the years since then, the club had grown to be a USA Swimming Gold Medal Club in the Club Excellence Program, and has seen program alumni like Maxime Rooney be named to the USA National Team.
BSN Sports Team Ambassador Jessica Hardy spoke with Morsilli to get a sense of what makes the Seahawks special, as well as some of the insights he's gleaned in over decades in the sport.
Morsilli sums up his coaching philosophy as simply, "To help our swimmers seek personal excellence in and out of the pool."
When asked what makes the Seahawks' team chemistry special, Morsilli explained that…
We work hard to maintain a positive, supportive atmosphere in the Senior Elite group. The culture of the group changes slightly each year based on gains (new members) and losses (graduating members), but we work to guide each new group towards mutual respect and support.
Part of that "mutual respect and support" also involves helping ensure that Seahawks swimmers are preparing to be future leaders in and out of the pool. Morsilli explained that the Seahawk coaching staff does that by…
…very aggressive goal setting, then very aggressive accountability towards these goals on a daily basis. This includes technical and speed/endurance goals. Also, the ability to use failure as a motivator.
While Morsilli has been on deck for a long time, like any other coach, he still faces struggles as the sport, and society, changes over the years.
More and more, we need to counsel parents. Our goal is to "prepare the child for the path," while there is a huge societal urge for parents to "prepare the path for the child."
When asked about his favorite coaching memory, Morsilli chose not to point to any specific one, but rather talked about he loves watching swimmers make their…
first time cuts. This ranges from athletes achieving first time Sectional cuts to first time Olympic Trials cuts.
ABOUT BSN SPORTS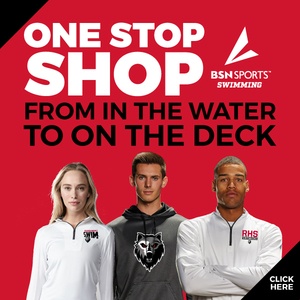 Founded in 1972 as a factory-direct equipment company, today BSN SPORTS is the largest distributor of team sports apparel and equipment in the United States, with over 3,000 employees across 80 regional offices. At BSN SPORTS we believe that sports have the power to change lives. At the heart of what makes sports happen are the coaches, teachers and mentors who work with young and old alike to build meaningful lifelong experiences. That's why our mission is simple. The more time we save coaches with everything they do off the deck, the more time they can spend changing lives. And that's the real final score.
Get your swimmers in custom team gear with your team's logo. My Team shop provides a one-stop-shop solution to custom apparel, suits, footwear, equipment and accessories. It's simple to setup and the My Team Shop platform can even serve as a fundraising solution to earn dollars for your program. To set one up today email us at [email protected] or call 1-877-217-9027.
To learn more about BSN sports visit us at www.bsnsports.com/ib/swimming.
BSN SPORTS SWIMMING ON Instagram – @bsn_swimming