2018 CSCAA National Invitational
March 8th-10th, 2018
Lejeune Hall, U.S. Naval Academy, Annapolis, Maryland
SCY (25y) course
Psych sheets for the 2018 CSCAA National Invitational have been released. The meet, organized by the national collegiate coaches' association, is a recognized NCAA post-season meet designed to bring together the best non-NCAA Championship qualifiers in the country.
Qualifications to the meet can be earned by one of two ways: a swimmer or relay qualifies by winning an event at a "bona-fide collegiate conference championship." Swimmers also earn an invite by surpassing the CSCAAA "A" standard during the 2017-2018 season. There is also a set of "B" standards, which simply exist as a determinant for bonus events for swimmers who have qualified via the Automatic manners, which is different than the premise of "B" standards for the NCAA Championship meet.
2018+CSCAA+Psych+Sheet+3.5.18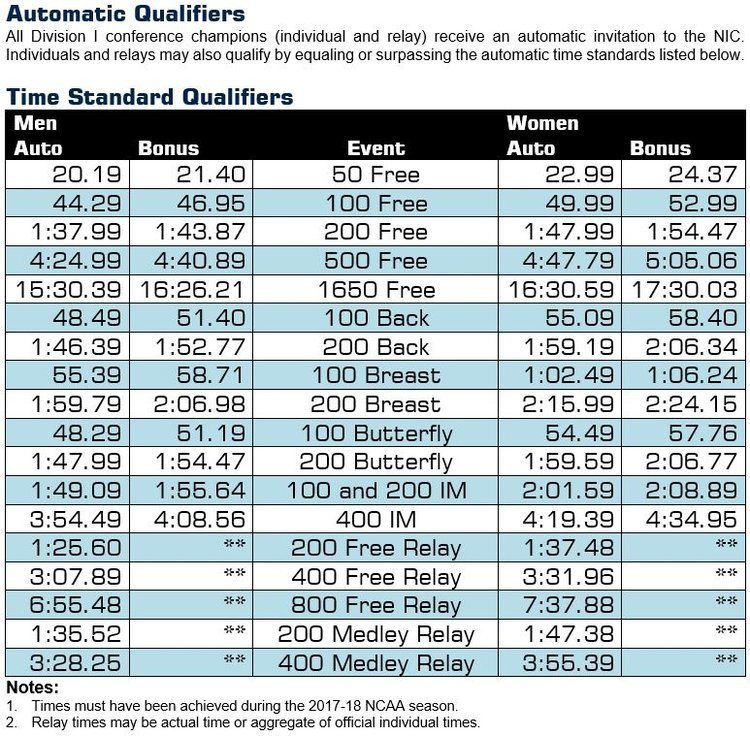 While most of the meet's participants are mid-majors, South Carolina is carrying the torch for the "Power 5" conferences with 53 entries.
Among the best races at the meet will be the men's 500 free, where Denver's Colin Gilbert (4:16.32) leads the way. Gilbert ranks 36th nationally in the vent this season – 7 spots short of qualifying for the NCAA Championships. He's also the top seed in the 200 free (1:35.92) and the 4th seed in the 1650 free (15:13.22).
Gilbert qualified for last year's NCAA Championship meet, finishing 31st in the mile and tying for 37th in 4:20.52.
In a twist, this meet will also feature a 100 IM, which was approved as an official NCAA event in 2015.
Update: South Carolina's Rafael Davila won't race at this meet, South Carolina has confirmed.