Lynn Kachmarik is the founder of TRUE BRAND SPORTS where she travels around the world and does workshops for coaches, parents and student-athletes to make sports better. Her website can be found at www.truebrandsports.com.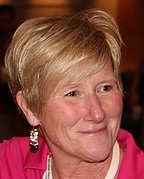 I hope you know that you are not disappointing any of us.
I know how hard keeping your head high at these Olympic Games must be for you as everyone expects so much from you, including your own high standards.
You stepped into the limelight at the 2012 London Olympics and everything you have done since then is represent yourself, your family, your college, your club, your coaches and teammates with such dignity and class.
You are the epitome of humbleness, passion, energy, kindness and the truth about sports.
The highs are so amazing and the lows are brutal but when you compete and represent your country the way you have….your pain is our pain because we love you and want you to be happy. The journey to be the best is filled with highs and lows but your character defines who you really are. Under extreme pressure, you have made the right decisions along your journey and you exemplify the best that sport can give us as a role model for our children.
Keep your head high, continue to flash that smile because your journey is so honest and real It may be rough right now but you will be back. No one can ever take anything away from you.
To be honest, my pride and respect for you has exploded as I continue to watch how you react at these 2016 Olympics! You may not have done what you set out to do but once again you have raised the bar for all of us in terms of how to respond when you fall short of your goals and for you…it has been on the world stage. You are Missy Franklin and you are still everything we have known you to be! We stand with you and thank you for what you have given to all of us as coaches, parents and student-athletes!
This article was written by Lynn Kachmarik.