14th SINGAPORE NATIONAL SWIMMING CHAMPIONSHIPS 2018
Wednesday, June 20th – Saturday, June 23rd
OCBC Aquatic Centre
LCM
Same-day, knock-out style competition for 50s
Singapore's biggest swimming star was in the pool on day 2 of the Singapore National Swimming Championships racing in the men's 200m free and 100m fly events at the OCBC Aquatic Centre. Schooling was etched into the nation's sporting history by winning its first Olympic gold when topping the men's 100m fly podium in Rio back in 2016. Since then, the 23-year-old earned bronze in the same event at last year's World Championships, wrapped up his Texas Longhorn career and kick-started his professional swim campaign with big sponsors Speedo and Hugo Boss.
During today's morning session, Schooling started off quietly with a solid 200m free swim of 1:50.74. That mark represented the only result under 1:51 of the morning and gave the former Longhorn the top seed. Schooling, who now represents Chinese Swimming Club (CSC), followed that up with a steady morning 100m fly performance of 54.11 to clinch the 4th seed.
Ultimately Schooling dropping the 2free final to focus on the fly, a strategy which paid off in the form of victory, albeit by a narrow margin. Splitting 24.56/27.87, Schooling registered a winning 100m fly time of 52.43. Just behind him tonight, however, were a pair of Swimming Victoria athletes in Matthew Temple and Bowen Gough. 19-year-old Temple charged to the wall just .16 behind Schooling, clocking 52.59 for silver, while Gough notched 53.20 for bronze.
Although Schooling's performance tonight beat his own meet record of 53.59 set way back in 2012, his 52.43 outing falls outside of the world's top 25 times thus far this season and sits well back from his 50.83 bronze medal-winning effort from Budapest. However, Schooling is getting back in the groove of training, spending his summer in Singapore and adjusting to Head Coach Stephen Widmer.
Of note, Schooling tossed his gold medal from tonight's 100m fly performance to an adoring young fan, making that aspiring swimmer's night.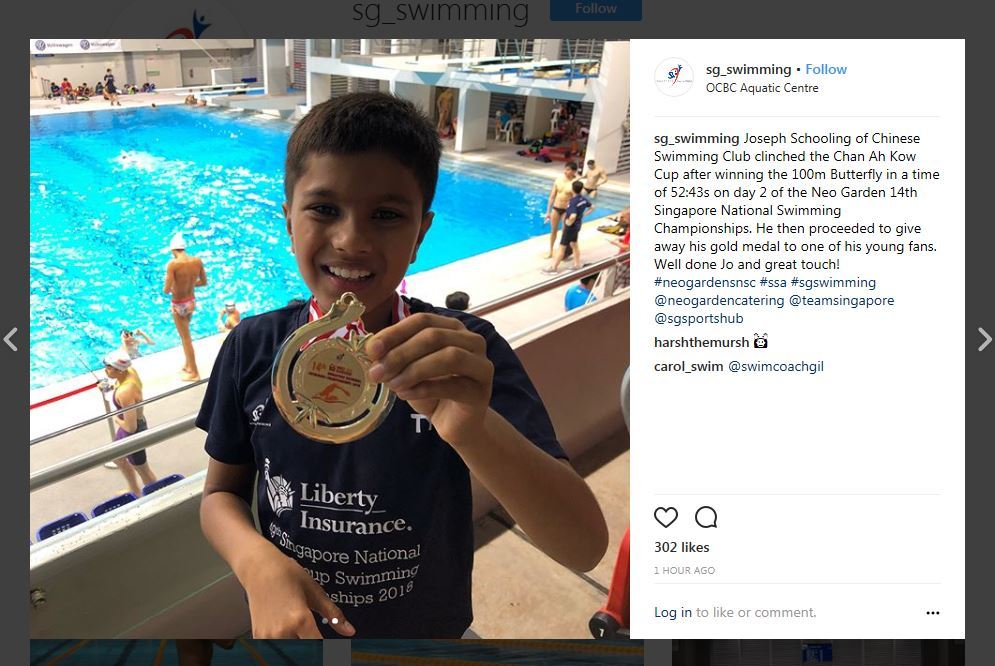 In other swims, Thailand racked up its first win with Natthanan Junkrajang's gold in the women's 200m freestyle. The 32-year-old clocked a winning time of 2:02.03 to beat out the fastest Singaporean, Mun Ee Christie May Chue. Chue finished in 2:03.07 for silver.
Schooling's absence in the 200m free opened up the door for 19-year-old visiting New South Wales swimmer Zac Attard to attack the race. He finished in a winning time of 1:50.32 ahead of 16-year-old Jonathan Tan of Singapore. Tan touched in 1:50.66, which hacked almost an entire second off of his previous personal best of 1:51.93 clocked last December in Australia. For point of reference, Tan's sub-1:51 outing would rank the teen 14th on the list of all-time performances by American 15-16 boys, ahead of such names as Joe Hudepohl, Andrew Abruzzo and Ricky Berens from when they were in that same age group.
Yesterday's 1500m freestyle winner for the women, Sophie Caldwell of Victoria, collected her 2nd gold medal of these championships with a win in the 200m back. Caldwell earned a time of 2:16.91 to top the field in a new meet record-setting mark.
Additional Winners:
Matthew Pender of New South Wales was tonight's 200m back winner for the men, touching in 2:02.17.
Another visiting swimmer, Jasmine Alkhaldi of the Ayala Harpoons, proved fastest in the women's 100m fly, taking the gold in 1:01.45.
The women's 100m breaststroke saw Indonesia's Treciel Vanessae Evato Anandia race to the wall first in 1:10.45, a new meet record.
Victoria's Sam Williamson kept the men's version of the 100m breast field at bay, taking the gold in 1:02.06.
The women's 800m free was won by Ching Hwee Gan, who, at just 15 years of age, notched the victory in 8:49.33 to represent the only swimmer under the 9-minute barrier in the race.