Michael Phelps, the greatest Olympian of all-time, and Aqua Sphere officially launch the "MP" brand with the release of their highly anticipated technical swim suit XPRESSO.  The 2015 MP line, developed with the technical input and product testing of Phelps and Coach Bob Bowman, includes performance swim goggles, K180 and K180+, and competitive training Focus Swim Snorkel designed and manufactured by Aqua Sphere.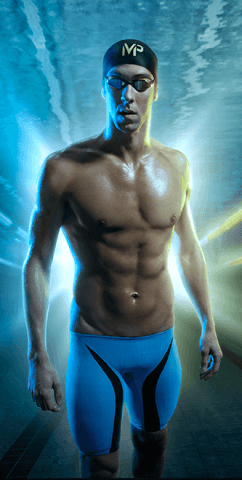 Phelps, who loves to break barriers in the pool, has found a unique partner in Aqua Sphere and their parent company Aqua Lung. This is not a new company. Aqua Lung has a long, lauded history reaching back to the 1940s and the creation of modern diving equipment co-developed by Captain Jacques-Yves Cousteau, the world-famous documentarian on marine life and ocean exploration who is widely considered the father of ocean conservation. Aqua Sphere launched in 1998. With Aqua Lung at their back Aqua Sphere has grown into industry leader, respected for their design, development and manufacturing expertise. Aqua Sphere has one more quality, one which is very important to Phelps, their global footprint. They're in more than 90 countries worldwide. Phelps is a global star, and in some ways, more famous internationally than in the United States. With Aqua Sphere's a powerful distribution network, the MP brand will reach the global market very efficiently.
The Phelps-Aqua Sphere collaboration is unique in one more very important way. It is arguably a first in the competitive swimming market. While there have been signature lines of products carrying a swimmer's name in the past, they were limited runs. MP is different. MP, the entire business model, is more akin to Nike and famous basketball star Michael Jordan's iconic brand Air Jordan.  This endeavor is creative, new, and dovetails with Phelps' mantra since he turned pro at the age of 16, I want to change the sport of swimming.  The launch of the MP brand is a very intentional step in that direction.
"My decision to partner with Aqua Sphere and launch the MP brand was driven by the opportunity to enhance the technical aspects of swimming products available in the marketplace and I am proud to be a part of the development of our first competitive racing suit, the XPRESSO," said Phelps. "I believe we have created a racing suit that provides the correct level of compression in the right areas combined with flexibility that is noticeably significant in and out of the water. From the light-weight material to the eye-popping colors, I'm looking forward to racing in the XPRESSO starting with the Mesa Grand Prix."
This is very much so a Phelps and Coach Bowman endeavor. Their swim narratives are always and will be forever intertwined, and it's fitting they chose Mesa to reveal the MP brand to the world.  Last year, the Phelps comeback began at the Mesa Grand Prix. The competition for this duo, and the event really was the Phelps and Bowman Show, was relaxed, fun, almost joyful. It was clear they had returned to competition on their own terms.  This year, with the Aqua Sphere-MP brand launch, that theme continues. Bowman's elbow-deep in this enterprise to deliver products to swimmers worldwide, and for Bowman, the eternal tactician, his aim is all about performance.
 "From the fabric and patterning, to the compression and body coverage, every detail has been engineered to create a performance suit that is fast in the water, comfortable to wear, and looks great," said Bowman." I was most impressed by the teams' willingness to take our feedback and fine-tune the XPRESSO to ensure the best possible performance."
The XPRESSO men's suit can be pre-ordered now with availability mid-May, and the women's suit will become available mid-summer. Retailers carrying the XPRESSO can be located on www.michaelphelps.com.
See the MP brand in action starting tomorrow in Mesa.
To learn more about MP designed by Aqua Sphere and its products, please visit www.michaelphelps.com.
MORE ABOUT XPRESSO
The MP XPRESSO combines Aqua Sphere's proprietary Exo-Foil and Aqua-Core fabrics to deliver the innovative dual fabric technology, Exo-Core, in a racing suit that not only provides compression, hydrodynamic material and bonded seams, but also offers increased flexibility and range of motion that allows athletes to maintain relaxed muscles before and during competition to maximize peak performance. The Exo-Core construction features strategically placed panels designed to reduce energy dissipation through compressive support while allowing for increased circulation throughout the leg and femoral artery. The panels work in conjunction with the XPRESSO's proprietary fabric to offer athletes an unprecedented range of motion in a competitive racing suit. The XPRESSO was created using Italian design and fabrication.
From Todd Mitchell, Aqua Sphere Business Line Manager
"We are extremely excited to officially introduce Michael Phelps' signature brand, MP, to the international marketplace highlighted by our fully integrated collaboration in the development and release of MP's first competitive racing suit –XPRESSO," said Todd Mitchell, Business Line Manager, Aqua Sphere. "Michael and Bob challenged Aqua Sphere to develop a racing suit that distinguishes itself from the other technologies available in the marketplace with particular attention to finding a way to increase the level of flexibility and range of motion to help improve performance. Our team of designers and engineers utilized Aqua Sphere's proprietary technologies to develop a ground-breaking dual fabric technology, Exo-Core that is an innovative design combination of stability and flexibility fabrics, which serves as the signature feature of the XPRESSO."
About Aqua Sphere
Established in Genoa, Italy, in 1998, Aqua Sphere is the premier swimming equipment manufacturer for fitness and recreational swimming, aquatic exercise and triathlons. With the launch of its cutting-edge Seal Mask—the world's first swim mask, the company set the industry standard and today continues to innovate with a complete range of premium products, including eye protection, swimwear, triathlon wetsuits, footwear, and swim fitness and training accessories. The designs have gained the respect and loyal following of many celebrities and notable athletes, including the world's most decorated Olympian Michael Phelps, with whom Aqua Sphere is partnering to develop a global brand partnership. Alongside its parent company Aqua Lung and supported by an international distribution network, Aqua Sphere has grown into a worldwide enterprise representing unparalleled design, development and manufacturing expertise, with a global footprint in more than 90 countries. For more information, visit www.AquaSphereSwim.com,  www.Facebook.com/AquaSphereSwim, or www.Twitter.com/AquaSphereSwim.
About Aqua Lung
Aqua Lung pioneered the creation of modern diving equipment in 1943 when Captain Jacques-Yves Cousteau teamed with Emile Gagnan to develop the first "aqua-lung" that made underwater exploration possible. Today, the brand continues to be the leading global designer and manufacturer of dive and water sports gear. With a deep commitment to quality, research and testing, Aqua Lung has revolutionized the scuba diving experience by setting industry standards for scuba equipment in technology, comfort, safety and design. The company's rich history as an expert in the dive and water sports industry has led to the demand of Aqua Lung equipment for recreational, technical and military applications in more than 90 countries around the world, under brand names, Aqua Sphere, Apeks, U.S. Divers, and Stohlquist. For more information, visit www.AquaLung.com, www.Facebook.com/AquaLungDivers, or twitter.com/AquaLungDivers.