Now that Olympic Trials are over, a new level of excitement and nervous energy slowly begins to ramp up. The London Olympic Games is the tent-pole event of the summer if you're a swimming fan, another marathon  eight days of action and drama. 
How do you deal with it? Make the most of it? Enjoy it to the nth degree?
During the 2004 Athens Games, one of the few Olympics I didn't attend, I swam in my pool at home during the swimming competition. I couldn't help myself. Michael Phelps, Natalie Coughlin and Aaron Peirsol were the headline stars, swimming times I could hardly believe were possible. Right before finals, and even in between races, I was hopping in the water to stretch my limbs and burn-off the nervous energy.  Combining the action on TV with personal swims in the pool made it more fun!
In London, Olympic fans can do the same thing and have an even greater sensory experience with Triathlon Live.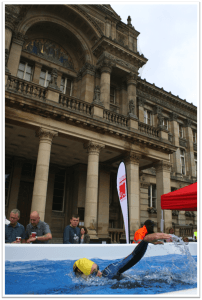 Launched in partnership with Endless Pools and the London Organizing Committee of the Olympic Games, fans can test their mettle in a state-of-the-art Endless Pool, burn their legs on a stationary bike, and stride miles on a treadmill.
In an area half the size of a tennis court, these hyper-athletic epicenters will be equipped with widescreen televisions and concert-quality sound systems, streaming the Olympic competition while Triathlon Live participants go for the gold themselves.
Endless Pools will be the standout attraction, as it usually is when people see a highly engineered race-pace pool in the middle of a crowded metropolitan area.
Hyde Park, next to the Olympic Venue, is only one of many hotspots Triathlon Live will host all across Britain: Bradford, Bristol, Cardiff, Coventry, Edinburgh, Leicester and Manchester.
Checkout the Hyde Park's Triathlon Live hub here.
Endless Pools gets it. You've got to be there and be a part of the action. It's about participation, which is why all Triathlon Live Venues are completely open to the public to enjoy fun competitions, coaching seminars or just an open session to dive in and swim.
If you're in London and need a workout during the Olympic competition, go to the Hyde Park Triathlon Venue and try an Endless Pool.
For more information about Endless Pools go here.
WIN AN ENDLESS POOL by helping Endless Pools in their partnership with Swim Across America.