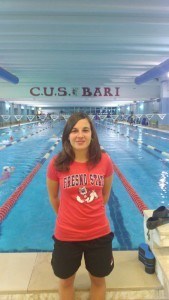 Manuela Mendolicchio from Bari, Italy has verbally committed to the Fresno State Bulldogs, giving the team the heir apparent for their breaststroke throne after the pending graduation of senior Brooke Rodriguez.
Mendolicchio's best times in long course meters (with yards conversions):
100 breaststroke – 1:11.95 LCM (1:03.01 yards conversion)
200 breaststroke – 2:30.64 LCM (2:12.11 yards conversion)
200 IM – 2:22.12 LCM (2:05.15 yards conversion)
Mendolicchio is completing her last year of high school at the Liceo Scientifico G. Salvemini before joining the Bulldogs, and as mentioned, when she arrives on campus, she'll likely be on the top of the Fresno State breaststroke group. Brooke Rodriguez, the school record holder, is in her final year of eligibility, and is only half-a-second better than Mendolicchio's converted time (1:02.65). Mendolicchio's converted best in the 200, meanwhile, is half-a-second better than the 18-year old school record, and while conversions aren't foolproof, it would be a safe projection to have her ahead of both of those records before she's done in the NCAA.
"I have chosen the Fresno State program because I got very well impressed by the coach, Jeanne Fleck: she is doing a great job with the Bulldogs and she is known to be someone who takes very good care of the ladies in her team," Mendolicchio said. "So I want to thank coach Fleck for the attention and all the support to pursue this dream, Steve Steketee (currently assistant coach at Northwestern) for introducing me to the world of US College Swimming, Dario Giannone (my current coach at CUS Bari), and my high school here in my hometown."
Mendolicchio is a silver medalist at Italy's National Championship meet in the "Cadetti" category, which is for 16/17 year olds.