Disclaimer: BlueSeventy Swim of the Week is not meant to be a conclusive selection of the best overall swim of the week, but rather one Featured Swim to be explored in deeper detail. The BlueSeventy Swim is an opportunity to take a closer look at the context of one of the many fast swims this week, perhaps a swim that slipped through the cracks as others grabbed the headlines, or a race we didn't get to examine as closely in the flood of weekly meets.
Last weekend, the California men had about the best weekend of NCAA dual meet competition they could ask for.
With a pair of Pac-12 rivals in town in Arizona and Arizona State, Cal swept every single event of both duals, with Ryan Murphy taking home 7 key wins in the process.
Against Arizona on Friday night, Murphy won all four of his races. The 50 free was his "off" event, and even still, Murphy blasted a 19.84 to blow out the field by almost half a second. That's good news for the Cal free relays, which have typically relied on Murphy for a huge split at NCAAs. He was also 19.4 on his leg of the winning 200 free relay.
Back in his backstroke wheelhouse, Murphy was his typically untouchable self. His 45.87 leading off the 400 medley relay was the best 100 yard back we've seen in 2016 by almost two seconds. And his 1:41.20 win in the 200 back earns the same honor.
On Saturday against the Sun Devils, Murphy took on an entirely different lineup. Again his relay splits were spectacular (21.53 in the 50 back and 43.83 in the 100 free), and this time, he added a 46.95 win in the 100 fly. The only event Murphy didn't win on the weekend was the 200 free, where he finished second to teammate Trent Williams by just .02 seconds (Williams was 1:37.01, Murphy 1:37.03).
Though Texas is still the heavy favorite to repeat as NCAA champs, Cal's star swimmers have been flexing their muscles enough to stir up at least some discussion as to whether they could challenge the Longhorns at NCAAs. Murphy – the NCAA Swimmer of the Year last season – is central to that effort as arguably the best swimmer in college swimming.
We'll have to wait for March to see exactly how realistic a nailbiting Texas-Cal showdown truly is. But for last weekend, Murphy has at least earned his Golden Bears the Blueseventy Swim of the Week.
Aptly named to suggest 70% of the earth is covered in water, blueseventy is the world leader in the pool, triathlon and open water wetsuits and swimskins. Since 1993, we design, test, refine and craft products using superior materials and revolutionary details that equate to comfort, freedom from restriction and ultimately a competitive advantage in the water. blueseventy products have instilled confidence in beginners as well as carried world-class athletes to countless Olympic and World victories.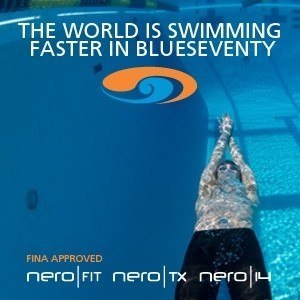 For the latest news and blogs from blueseventy visit www.blueseventy.com.
Twitter: @blueseventy 
Facebook: facebook.com/blueseventy
 Blueseventy is a SwimSwam partner.