The USA Swimming Foundation Fantasy Camp is a star-studded weekend of swim fan fun. It's open to swimmers of all abilities who want to rub shoulders with and learn from Olympic Champions like Ricky Berens, Janet Evans, Rowdy Gaines, Garrett Weber-Gale, and coach David Marsh. The schedule is jam-packed with technique training, nutritional education, out-of-the-pool social activities and more.
The USA Swimming Foundation has hosted high-end swim camps in the past with great success. This time they're pulling out all of the stops and going for it, designing a camp to meet all of your swimming needs. I've participated in the past, and I'll join my Olympic peers this time as well. For me, it's the nuances of the camp that stick with you for years; learning techniques to control your position at the end of a race, getting a new and tasty recipe that aids in quick recovery, or simply hearing a personal story that's funny or inspiring.
If your schedule permits and you want to have a good time with great swimming friends, I hope you join us!
WHEN:  November 8-10, 2013
WHERE: US Olympic Training Center, Colorado Springs, CO 
Registration deadline: September 30th, 2013
USA Swimming Foundation Fantasy Swim Camp Details
Courtesy of the USA Swimming Foundation:
Participants will spend a weekend on the campus of the iconic U.S. Olympic Training Center in Colorado Springs, where they'll have the opportunity to live, eat and train like a National Team Athlete.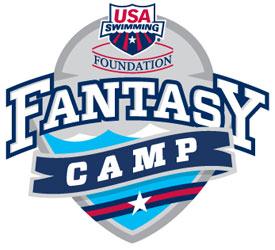 While on campus, participants will:
Train in the world-renowned Olympic Training Complex Aquatic Center—a state-of-the-art facility containing a 50m by 25m pool that is equipped with every conceivable training aid. The Aquatic Center is arguably the finest training facility in the world, and has been the training site for nearly every U.S. Olympic swimmer.
Receive coaching/technique training from Fantasy Camp Head Coach David Marsh and U.S. National Team staff.
Swim, eat and socialize with Fantasy Camp special hosts, Olympic gold medalists Rowdy Gaines, Mel Stewart and Janet Evans.
Participate in a special technique clinic with Olympic gold medalist and current world record holder Ricky Berens, courtesy of BMW, a proud partner of USA Swimming.
Learn how to fuel your goals by incorporating nutrition into your fitness regimen, from Olympic gold medalist and AthleticFoodie co-founder Garrett Weber-Gale.
Receive individualized swim filming/analysis, and personalized coaching on swim technique.
Dine in the Olympic Training Center Athlete Dining Hall—a world-leader in performance-based nutrition.
Attend swimming seminars geared to the adult athlete, and led by swimming's leading experts.
Hear from past and present swimming heroes about what it's really like to be behind the blocks at the Olympic Games.
Tour the Olympic Training Center as a VIP guest, and look behind the scenes of one of the most elite training environments in the world.
Receive luxury transfers to/from Colorado Springs or Denver International Airports, provided by BMW.
Bring home a bag packed with swag you won't find anywhere else, including an Arena Powerskin® R-EVO+ swimsuit, the latest innovation in the Arena racing range
…and more!
Fantasy Camp will be limited to 30 participants, to ensure an intimate experience full of personal swimming attention.
Date: November 8-10, 2013
Cost: $2,500
To register, or for more information, please contact Mariah Cunnick via email or by phone at 719.866.3614.
All ability levels are welcome to register. Fantasy Camp is for adults 18 years of age and older.
Air transportation to/from Colorado Springs is not included.
ABOUT YOUR FANTASY CAMP HEAD COACH AND SPECIAL HOSTS
Click here to meet your Fantasy Camp Head Coach David Marsh, and Fantasy Camp special hosts, Olympic gold medalists Rowdy Gaines, Mel Stewart, Janet Evans, Garrett Weber-Gale and Ricky Berens!
About the USA Swimming Foundation
The USA Swimming Foundation raises funds to support programs that save lives and build champions–in the pool and in life.
As the philanthropic arm of USA Swimming, the USA Swimming Foundation works to strengthen the sport from grassroots to gold medals. Whether we're equipping our children with learn-to-swim skills, or providing financial support to our heroes on the U.S. National Team, the USA Swimming Foundation is dedicated to supporting the pursuit of excellence in our sport and aims to provide the wonderful experience of swimming to kids at all levels across the country. 
The USA Swimming Foundation also serves as the home for our U.S. National and Olympic Team Alumni reunions and regional events.
We invite our friends and fans across the country to help us achieve our goals by getting involved as a donor, fundraiser, event attendee or volunteer.
MISSION STATEMENT
The USA Swimming Foundation raises funds to support programs that save lives and build champions in the pool and in life.
Follow the USA Swimming Foundation on Twitter here.