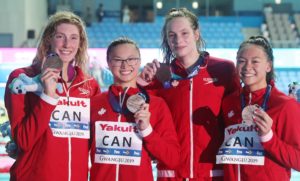 As the swimmers prepare for Tokyo, follow the Canadian Olympic Team on Twitter and Instagram which features MacNeil, Oleksiak, Sanchez, and Ruck.

Brent Hayden will make his fourth Olympic appearance in Tokyo after winning the men's 50 freestyle at the Canadian Trials in Toronto.

Tonight's 5th of 5 final sessions at Olympic Trials will feature the 400 IM, 200 back, women's 1500 freestyle, and men's 800 freestyle.

On the final day of racing at the Canadian Trials, Cole Pratt and Taylor Ruck will have a shot at adding the 200 backstroke to their 2020 Olympic program.
More Canadian Olympic Trials

7
After racing the event for Canada at the 2016 Olympics and 2019 Worlds, Overholt won't be racing in the final at 2021 Canadian Trials.

22
After winning the 200 and 800 freestyles earlier on in the meet, McIntosh won't race the 1500 freestyle final on night 5 of the meet.

7
While he injured his arm and didn't race the A final, Yuri Kisil is not yet out of the running to race the 100 free in Tokyo.

45
Oleksiak now ranks third in the world this season after coming within 19 one-hundredths of her gold medal winning time from the 2016 Games.

83
Follow along here for live updates and analysis as racing gets underway on night 4 of the Canadian Olympic Swimming Trials.

13
After qualifying for the Olympic team in the 50 freestyle on night 3, Brent Hayden has decided not to swim the 100 freestyle final.

18
Sanchez swam to victory in the women's 50 freestyle with a 24.66 to just out-swim the 24.77 FINA A standard and qualify for the Tokyo Olympics.

17
Having already qualified to race the 200 freestyle in Tokyo, Oleksiak will be hoping to make her return to the Games in 100 freestyle.