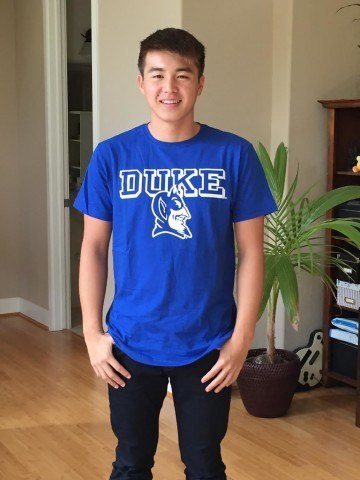 Daichi Matsuda from Palo Alto Stanford Aquatics in California has verbally committed to the Duke Blue Devils.
Matsuda is primarily a butterflier and IM'er. His best times in yards:
500 free – 4:30.71
100 fly – 49.52
200 fly – 1:47.95
200 IM – 1:52.26
400 IM – 3:56.43
Matsuda is part of an interesting trend developing in the Bay Area. He's already got two teammates from the PASA club team, which lies within walking distance of academic/athletic juggernaut Stanford University, who have traversed the continent to attend Duke University – Stanford's peer in academic reputation, but still not at the same level with their swim program (although they're trending in the right direction in a hurry).
Current senior Victor Chen and sophomore All-American Leah Goldman are also from Palo Alto; examining the larger trend, the Duke men currently have 9 swimmers from the state of California. The next-most popular states for the program are Connecticut and Florida with just three, and the Duke men don't have a single swimmer from the state of North Carolina.
Matsuda when he arrives will find a good training partner in Michael Miller for one season of overlap. Miller is a similar butterfly/IM type who scored 68 individual points at last year's ACC Championship meet.
As a junior at Gunn High School, Matsuda finished in the top 16 in both the 100 fly and 500 free at the inaugural California State Championship meet. While he has one year of high school swimming left, Matsuda says he's full-bore for Duke. His goal for his senior season: "Get faster so that I can contribute more to the team when I get to Duke."