With two days remaining before the start of the 2015 Women's NCAA Championships in Greensboro, North Carolina, we wanted to put together a few graphs to help keep track of the team race. Each graph is broken up by day to see how strong each team is in an event. We included the top 4 teams after scoring out the psych sheets. California is expected to win the meet, based on the swimming psych sheet alone, but four teams will be within reach. The defending national champions, the Georgia Bulldogs are seeded second, Stanford is expected to finish third, and Virginia is in position to finish fourth.
We made our best effort to predict the results of diving as well based on last year's results and the results from the Zone Championships. Below is a picture of a graph for each day and below it is a chart with the specific numbers for the above graph.
We will use these graphs throughout the meet to compare how each team does during the meet, comparing their expected points from the psych sheet to the actual points scored in the meet.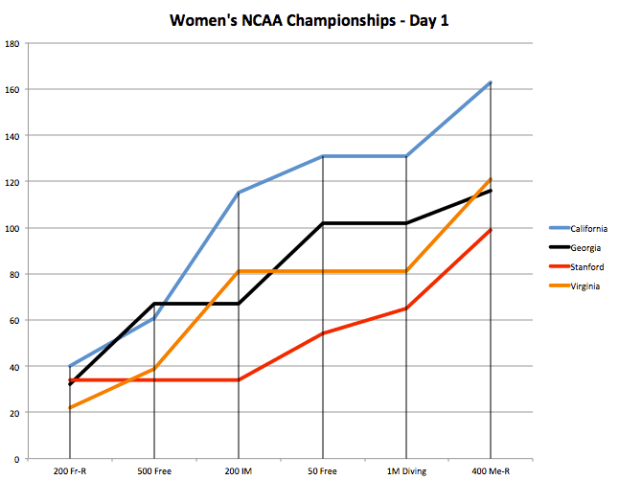 | | | | | | | |
| --- | --- | --- | --- | --- | --- | --- |
| Day 1 | 200 Fr-R | 500 Free | 200 IM | 50 Free | 1M Diving | 400 Me-R |
| California | 40 | 61 | 115 | 131 | 131 | 163 |
| Georgia | 32 | 67 | 67 | 102 | 102 | 116 |
| Stanford | 34 | 34 | 34 | 54 | 65 | 99 |
| Virginia | 22 | 39 | 81 | 81 | 81 | 121 |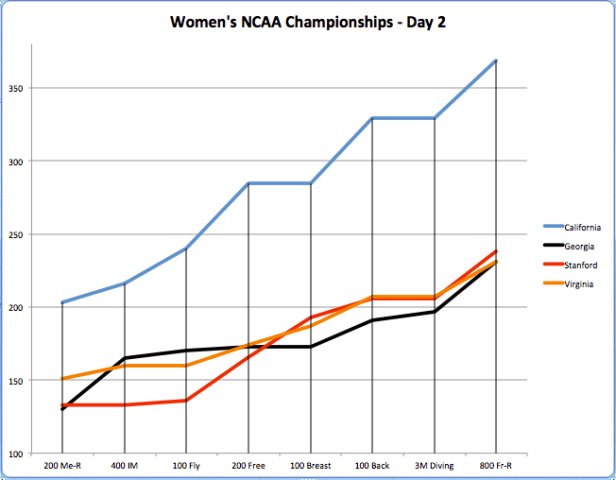 | | | | | | | | | |
| --- | --- | --- | --- | --- | --- | --- | --- | --- |
| Day 2 | 200 Me-R | 400 IM | 100 Fly | 200 Free | 100 Breast | 100 Back | 3M Diving | 800 Fr-R |
| California | 203 | 216 | 240 | 285 | 285 | 329 | 329 | 369 |
| Georgia | 130 | 165 | 170 | 173 | 173 | 191 | 197 | 231 |
| Stanford | 133 | 133 | 136 | 166 | 193 | 206 | 206 | 238 |
| Virginia | 151 | 160 | 160 | 174 | 187 | 207 | 207 | 231 |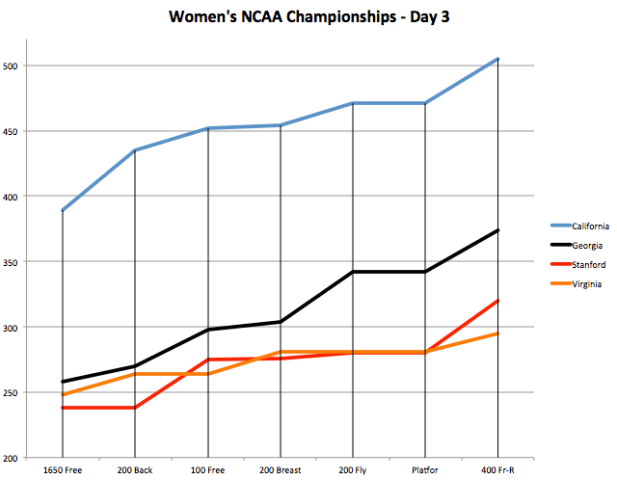 | | | | | | | | |
| --- | --- | --- | --- | --- | --- | --- | --- |
| Day 3 | 1650 Free | 200 Back | 100 Free | 200 Breast | 200 Fly | Platfor | 400 Fr-R |
| California | 389 | 435 | 452 | 454 | 471 | 471 | 505 |
| Georgia | 258 | 270 | 298 | 304 | 342 | 342 | 374 |
| Stanford | 238 | 238 | 275 | 276 | 280 | 280 | 320 |
| Virginia | 248 | 264 | 264 | 281 | 281 | 281 | 295 |