The women's 200m breaststroke is probably one of the most open events on the US Olympic Trials schedule in consideration of the fact that there's so much emerging talent that could overthrow the current leaders.
The event over the last quadrennial has passed through several different athletes in terms of second overall, however SwimMAC's Micah Lawrence has proven herself to be the overall leader. In 2013, Lawrence emerged as a world player in the event with a bronze medal at the World Championships. She followed that up with 100 and 200 breaststroke wins at 2014 Nationals in Irvine, securing her spot on both the 2014 Pan Pacs roster and the 2015 World Championships roster.
At Pan Pacs, Lawrence ended up fifth in a final loaded with talent, her worst international result since a sixth place finish at the 2012 Olympic Games in London. 2015 brought Lawrence back into the spotlight with a silver medal at the World Championships behind only Japan's Kanako Watanabe.
This season, Lawrence hasn't put up a time that cracks the top 25 world rankings, however if she's on at Trials she should be able to throw down a very solid time where it counts based on the consistency of her performances over the last five years.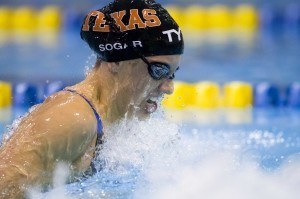 Laura Sogar has been on her tail over the last quadrennial, and most recently won her first national title with a 200m breaststroke win at the 2015 Nationals in San Antonio. Her time from nationals makes her the second fastest American behind only Lawrence last season, putting her in a great position to make the team this year.
This will be Sogar's third attempt at making the Olympic team. In 2012 she fell short with a fourth place finish in the 200m breaststroke behind now retired Rebecca Soni, Lawrence, and Andrea Kropp.
While Sogar is in a good position to make the team, she's going to have to fend off plenty of others. Currently, she's the fourth ranked American this season behind Katie Meili, Lilly King and Melanie Margalis.
Meili is a huge threat in all breaststroke events. After a huge finish at last year's Pan American Games, Meili broke through onto the international scene to become a top contender in both the 100 breaststroke. This season, she's already been a lifetime best of 2:23.69 at the Arena Pro Swim Series at Austin in the 200, which ranks her 11th in the world.
Meili is on the up-and-up, so her progress over the last season will be a mystery until she hits the water in Omaha. Lilly King is another swimmer who has recently emerged as a major contender. The Indiana University freshman broke the 100 and 200 breaststroke American records en route to two NCAA titles this season and has shown no signs of slowing down.
While many people question if NCAA standouts will be able to transfer their short course success to the big pool, King already has. A 2:24.47 best time in the 200m breaststroke ranks the young up-and-comer 18th in the world this season. Depending on where she is in training, she could have a lot left in her tank and overthrow some big names this summer to qualify for the team.
Another fast riser is Margalis, who shot all the way to #3 among Americans this season with a 2:24.68 at the Indy Pro Swim Series meet over the weekend.
Molly Hannis is another swimmer much like King who hasn't had the international experience, but could push past some top swimmers this summer. Hannis put up a 2:25.26 this season and is ranked 23rd internationally. She's been fast, but she'll need to make a considerable drop in order to compete with the others who will likely be in a 2:22-2:23 range.
Annie Lazor is also in the mix after swimming a 2:24.96 at the Arena Pro Swim Series at Charlotte. It's close to trials, and depending where she is in her training there could be a huge drop in store for her in Omaha. With so many swimmers sitting in the 2:24-2:25 range, there's no telling if they'll be able to make the transition to a 2:22-2:23 during their taper and put up a fight for a spot on the team.
Breeja Larson is a 2012 Olympian who will have to regain her previous form to make the team in this event. Larson was the second best American in 2013 and 2014 in the 200, but hasn't put up anything indicative of a huge performance over the last two seasons.
TOP EIGHT
| | | |
| --- | --- | --- |
| SWIMMER | BEST TIME (SINCE 2012) | PREDICTED TIME IN OMAHA |
| Micah Lawrence | 2:21.74 | 2:22.2 |
| Katie Meili | 2:23.69 | 2:22.9 |
| Lilly King | 2:24.47 | 2:23.4 |
| Laura Sogar | 2:23.54 | 2:23.7 |
| Molly Hannis | 2:25.26 | 2:24.3 |
| Breeja Larson | 2:23.44 | 2:24.5 |
| Melanie Margalis | 2:24.68 | 2:24.6 |
| Annie Lazor | 2:24.96 | 2:25.0 |
DARKHORSE: Miranda Tucker
The 18-year-old from Indiana University trains with King and threw down a very solid 200m breaststroke at Winter Nationals in December. With a 2:26.08 performance there, she's definitely in the mix to make the final.