Tokyo 2020 organizers released the entire schedule for the upcoming Paralympic Games Friday, complementing the Olympic schedule announced last month.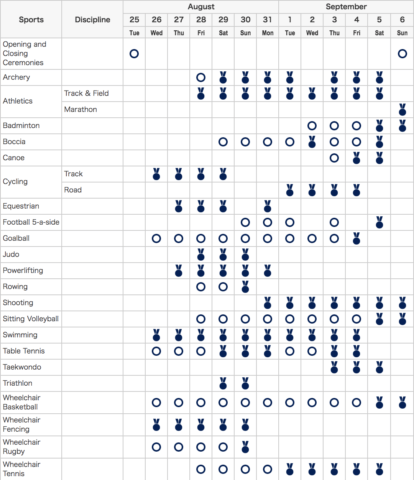 The Paralympic Games follow the Olympics, beginning on August 25th and ending September 6th.
The first day of swimming is August 26th, the day after opening ceremonies. Swimming will run for ten days, through September 4th, and feature medal events every day. The event-by-event schedule is yet to be announced, and according to the Games' website, will come out around when tickets go on sale next year.
Unlike Olympic swimming, it appears para-swimming will feature morning heats beginning at 9 a.m. and finals at 5 p.m., as opposed to nighttime heats and morning prelims.
If you're unfamiliar with Paralympic swimming, it's important to note that a typical day will include many more events than Olympic swimming, because events are split up by class. Swimmers are assigned a class ranging from S1-13 (or SB1 – SB13 for breaststroke and SM1 – SM 13 for IM) based on their level of impairment in order to level the playing field. So, there are separate events for not only each stroke and distance, but also each class. For example, the first night of the 2016 Paralympic Games featured 16 medal events.